The Day 1 of the Mercedes - Benz Fashion Week 2017 kicked off on the 27th of October 2017 at the Mercedes Benz Centre of Excellence – Dimo 800. Highlighting Sri Lanka's history of traditional crafts, the theme 'Made in Sri Lanka' was a running inspiration behind all collections of the night. Batiks, handlooms and embroidery graced the runway as 15 designers showcased what it means to carry the label 'Made in Sri Lanka'.
1.

TRAVEL TALES BY ISURU LIYANAGE
Isuru's collection 'Travel Tales' was inspired by the City Woman which he represented through his use of traditional Sri Lankan craft techniques. A very commercial collection, Isuru's ensamble was a complex mix of cultures that were illustrated by the finer details of handloom, embroidery and batik prints in his designs. His use of artisanal craft in clean cut silhouettes and muted colours presented a collection that was elegant and delicate.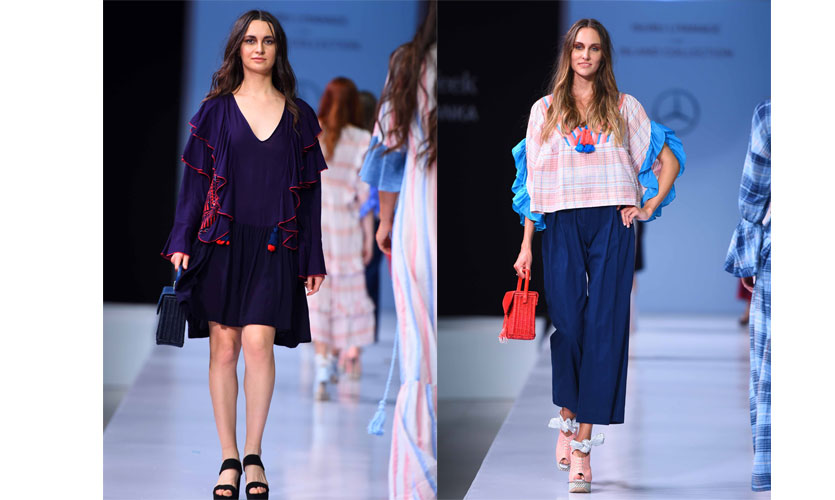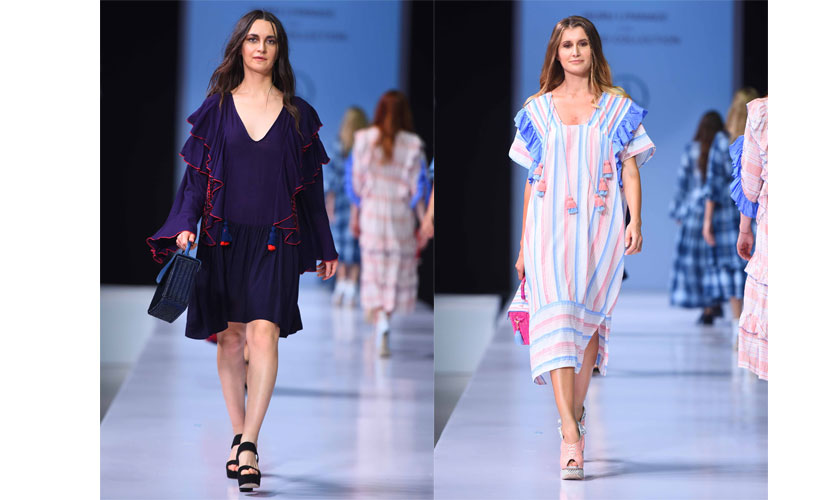 "I've been a part of the AOD Fashion Shows for many years but this year is the key event what with it being an international show so it was an absolute honour for me to have showcased my collection."
2.

FESTIVAL TRAVELER BY SAJEEWANI SENERVIRATNE
Sajeewani's collection 'Festival Traveller' was inspired by the mix of punk and goth sub cultures. Minimal silhouettes dramatized by layers and volume, the collection completed its gothic outlook with the use of striking studs, lace, embroided roses, foil and prints in its design. The consistent use of black and deep red with a touch of silver gave the collection a contemporary twist.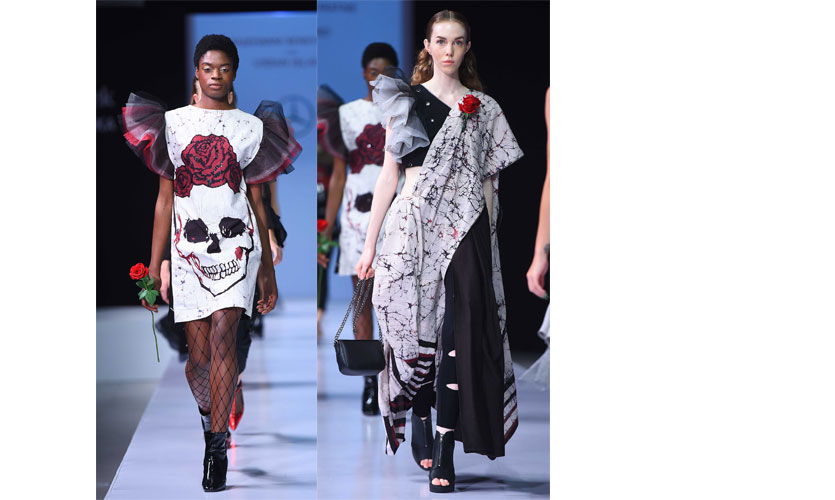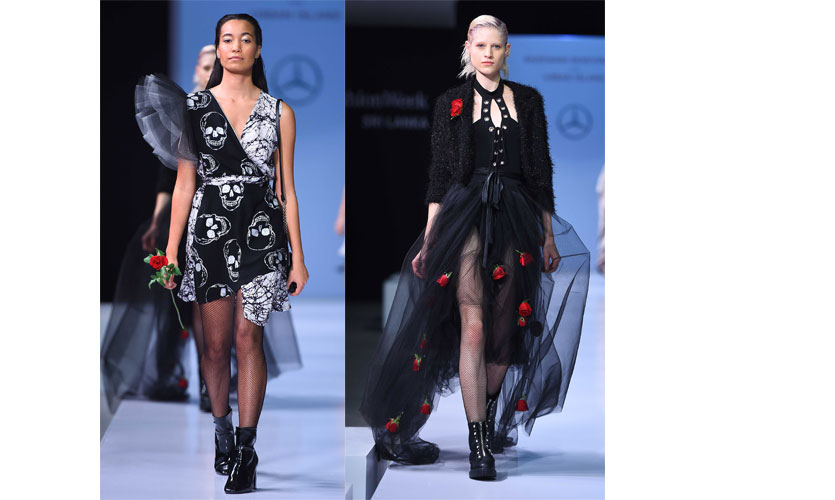 "This is such a big opportunity because this is the first time we are doing an International Fashion Week in Colombo and I am very excited and I feel so privileged to have shown my collection here"
3.

DESTINATION WABI SABI BY SHILANTHI ABAYAGUNAWARDANA AND ISURU LIYANAGE
Inspired by a Japanese concept, WabiSabi, the collection by Shilanthi and Isuru was an interpretation of the natural forces and its acceptance. A juxtaposebetween the history and the now, the old and the new, the collection used a variety of textures from the past and the present to highlight its core concept. A collision of smooth textures against rough material, the collection also attempted to portray an understanding of life with the careful use of black, white and shades of blue and coral pink in ensamble.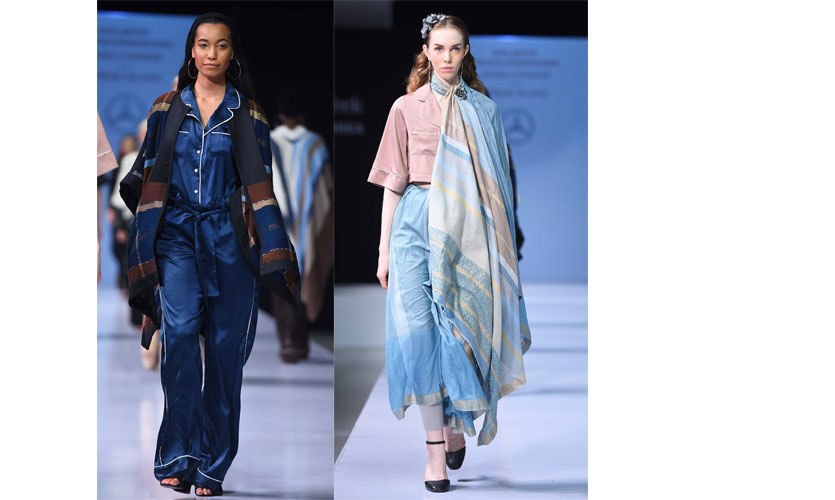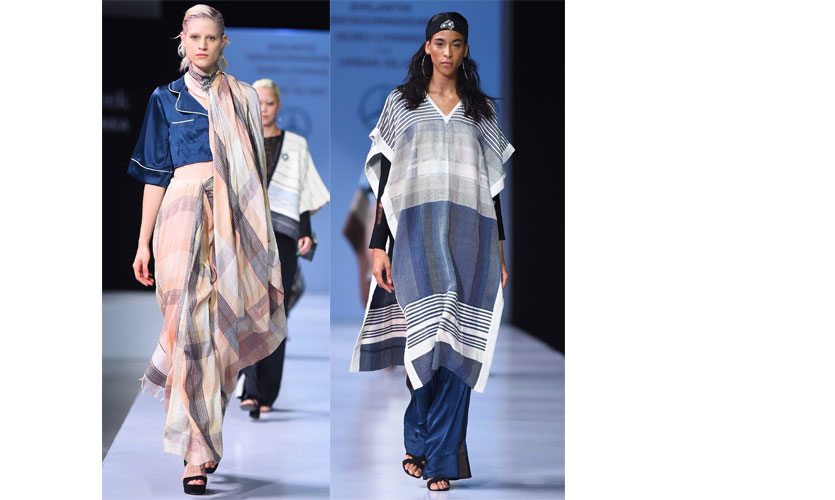 "This year it's international and we just loved getting the response to our collection because it helps us to grow and learn."
4.
ATHLEISURE REMINISCENT BY NITHYA LAMAHEWA
Nithya's runway collection was inspired by at leisure fashion by designing clothing that can be worn as gym/athletic wear but also as day to day casual wear. Encompassing the classic sports elements through Sri Lankan ornamental art the collection mainly consisted hues of black, red, white and mustard yellow. The use of batik and screen painting techniques in her designs captured the essence of traditional crafts in Sri Lanka.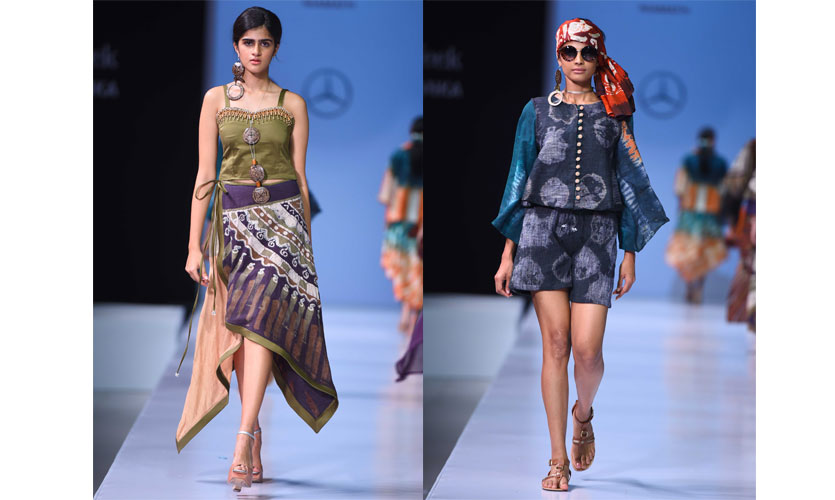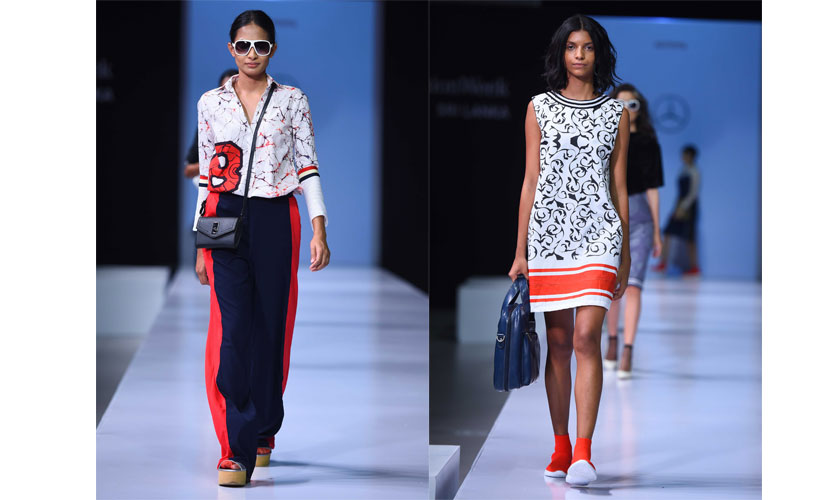 "MBFW is a great opportunity to designers like us because it's international and it's so great to take part in a platform like this and take Sri Lankan traditional craft, which is what my brand is all about, to the runway"
5.

ISLAND TRAVELLER BY AMESH WIJESEKERA
Dubbed 'Sri Lanka's Fresh Prince of Fashion', AmeshWijesekera's collection captured the essence of Sri Lanka by highlighting the islands history and lifestyle. The fusion of low tech and high tech was evident in his collection as it showcased a luxury design line made with local crafts such as handloom, dip dye and different print techniques. With a vibrant colour palette off acid yellow, mango green and soft pink against white the collection was fresh and stayed true to Amesh's signature style of minimal shapes and forms with sophisticated textile and detailing.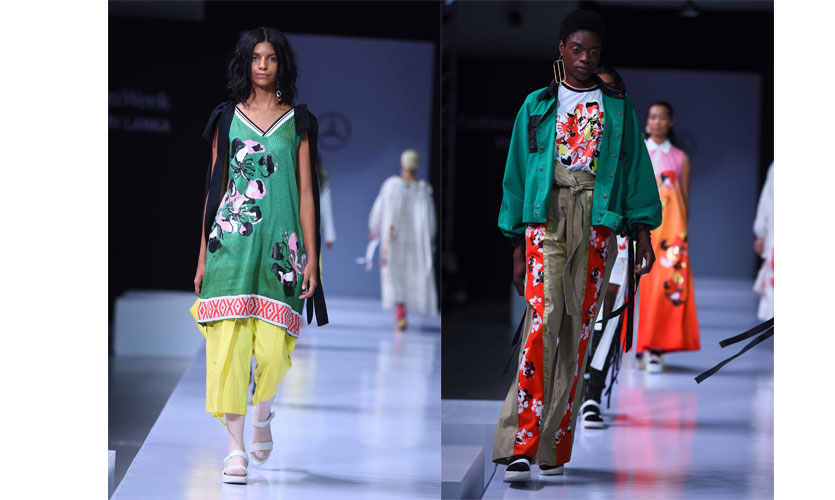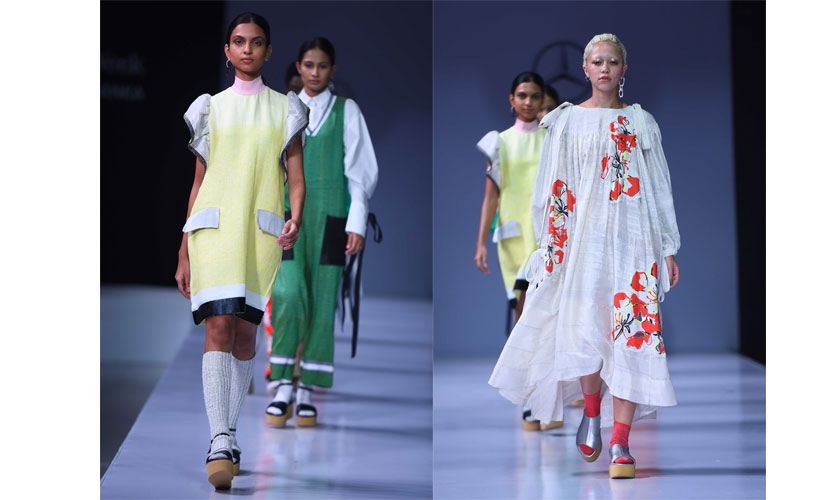 "Because this is the first International Fashion platform in Sri Lanka it was quite interesting to see how the Sri Lankan audience reacted to this collection so I'm quite happy"
6.

TROPICAL GANGURO BY PRABATH SAMARASOORIYA
Exploring Sri Lanka's signature, Prabathwas inspired to create something to contribute a new fashion trend based on Sri Lanka combining the eclectic Sri Lankan cultures. A merging of culture and fashion from Jaffna to Pettah, Prabath's high end collection was eccentric in its multi coloured scheme. The outfits included handlooms from Batticola and old recycled sarees from different communities which were twisted into a sporty and trendy look. We really loved the accessories in vibrant colours such as brocade shoes and bright socks which added a dramatic end to each outfit.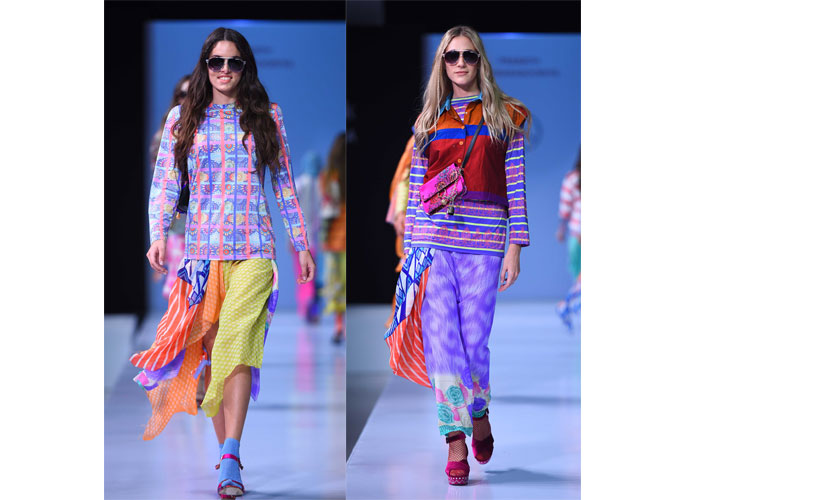 "Year by year, the Fashion Week is moving to the next level and this is a well-recognized event now and is the biggest achievement in Sri Lankan fashion industry and the exposure we get is such a great opportunity."
7.

THE NEW NOMAD BY ANNE MENDIS
Anne Mendis's collection is inspired by the Travel Girl. Her collection reflected the eclectic traveller who is playful, vibrant and bold. Taking inspiration from Sri Lankan lorries, hand drawings and number plates, the outfits were bought to life by the screen prints, foil prints and embroidery details in each.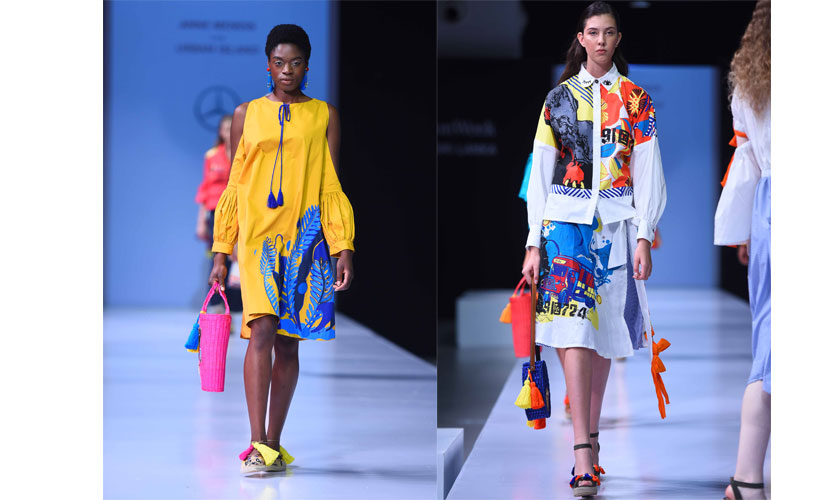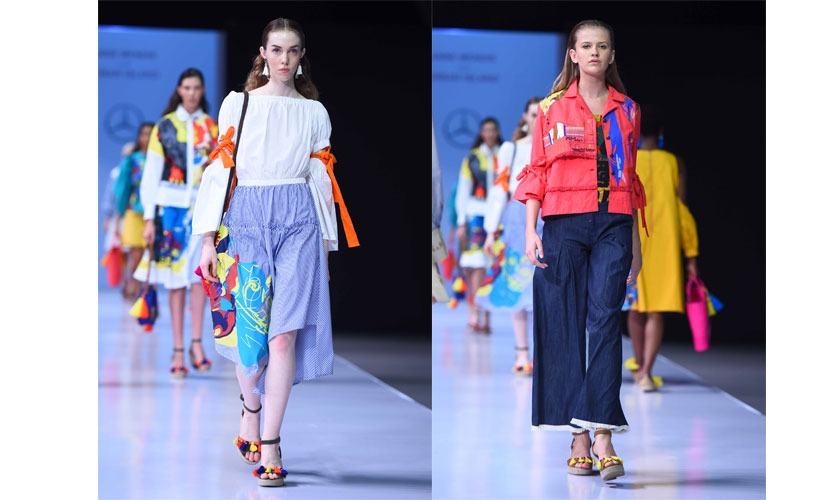 "I'm really happy about this event because it's the first International Fashion Week at Sri Lanka and as a designer I'm privileged to be a part of it."
8.

WHERE THE SKIES ARE BLUE BY SHEHANI DE SILVA
This denim inspired collection by Shehani attempted to recreate denim in handloom by getting the similar texture of denim to handloom. Her collection featured a variety of handloom and batik, each with a denim history to itself.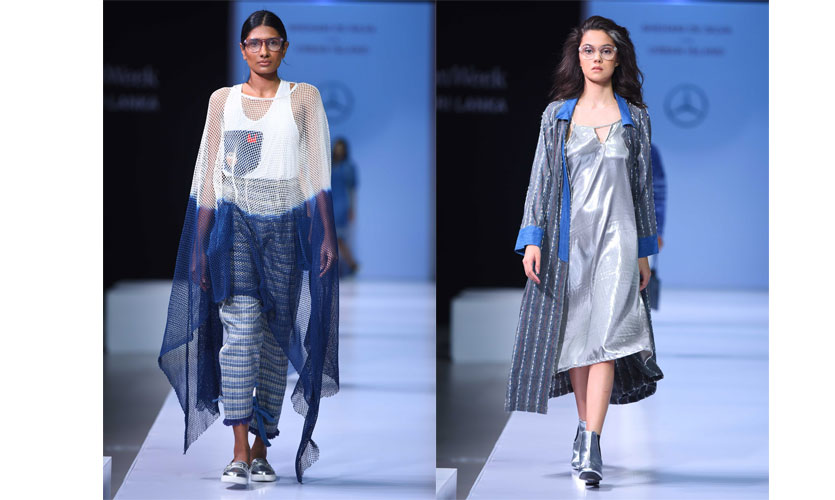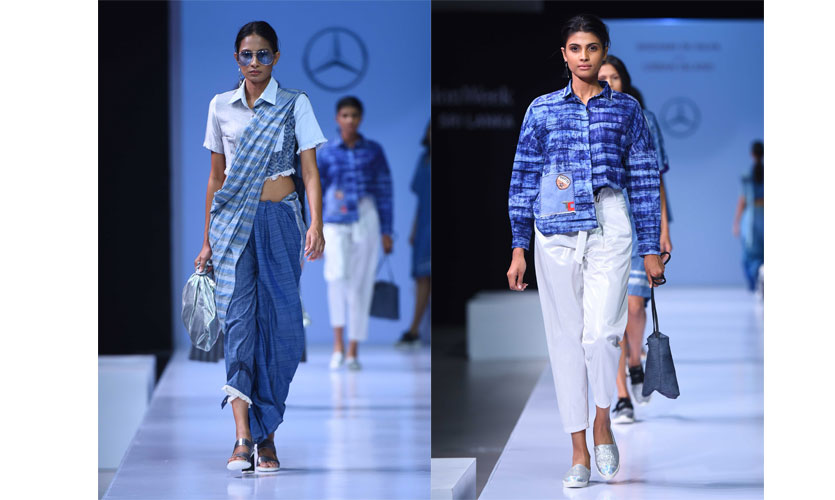 "I'm really honoured to be a part of the International Fashion Show. It's a pretty big privilege"
9.

TROPICAL SAFARI BY SENANI WICKREMASINGHE
A military inspired collection, Senani presented an ensamble of military trends mixed with tropical floral print. Using hand woven cotton and cotton blended fabrics her collection was a variety of shirt dresses, trench coat dress and jump suits in a masculine silhouette.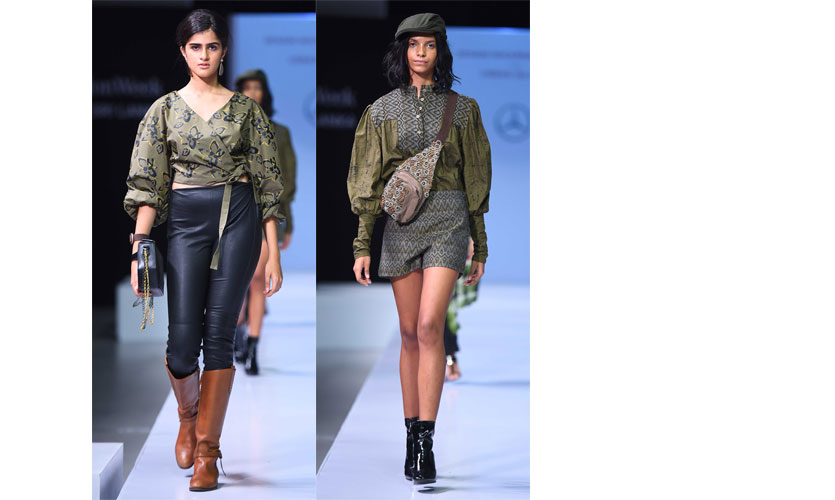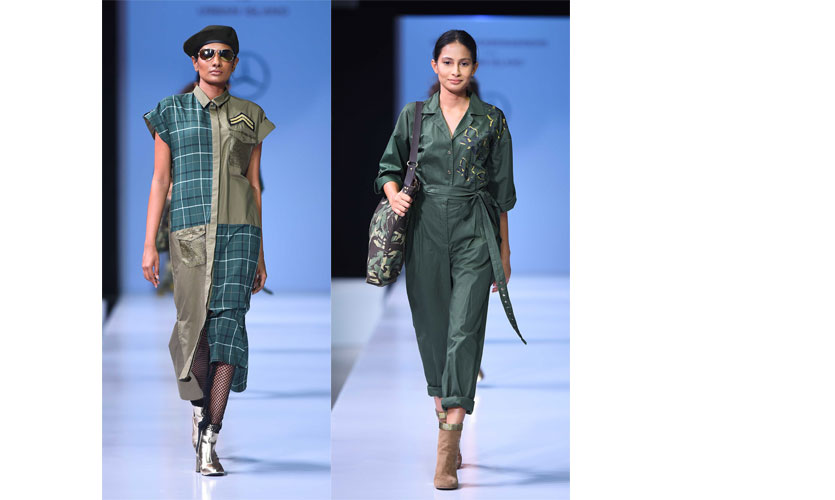 "MBFW is the biggest International Fashion Week happening in Sri Lanka so I think this is great opportunity for new designers like me"
10.

THE CULTURED MILENIA BY OLIVIA SIRIWARDENA
Her first time back in the runway after her graduation collection, Olivia added a few outfits from her previous collection to the runway once more. Inspired by ethnic travel from places such as Morocco, India and Pakistan her collection embodied the Travel Woman. With a range of print garments made with hand dyed fabrics such as linen, viscose and pure silk the collection was given artisanal value by the incorporation of local embroidery.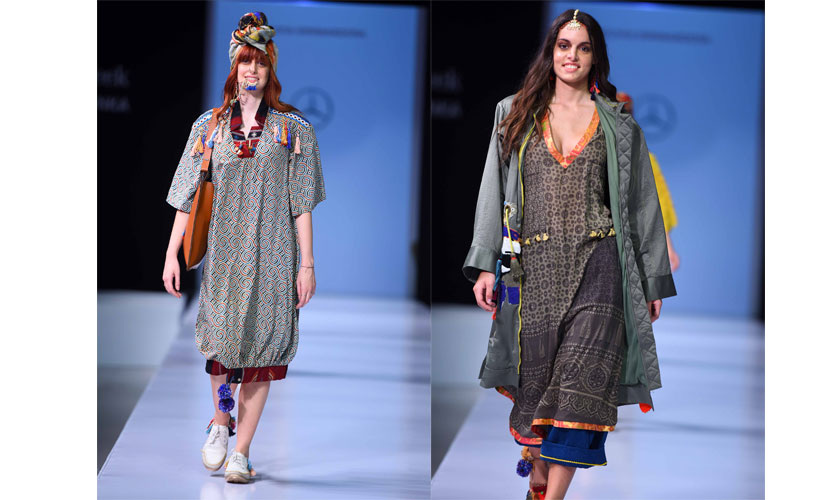 "I am always proud to be a part of MBFW. They have always helped me focus on my dreams and helped me to get where I am now which is where I exactly wanted to be when I started out!"
11.

ETHICAL WANDERER BY OSHINI PERERA
An ethically conscious designer, Oshini's all linen ensamble paid homage to her passion and belief. This organic collection was all inclusive with easy going silhouettes that are suitable to women of all sizes. Inspired by a girl who loves to travel any time of the day; day or night her collection featured outfits that can be worn at anytime, anywhere. A simple and elegant collection, the art of veeralu played a major role in each outfit.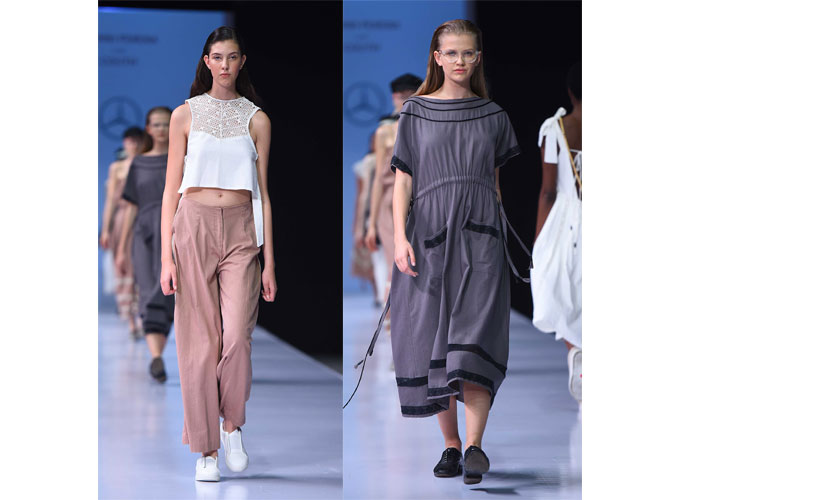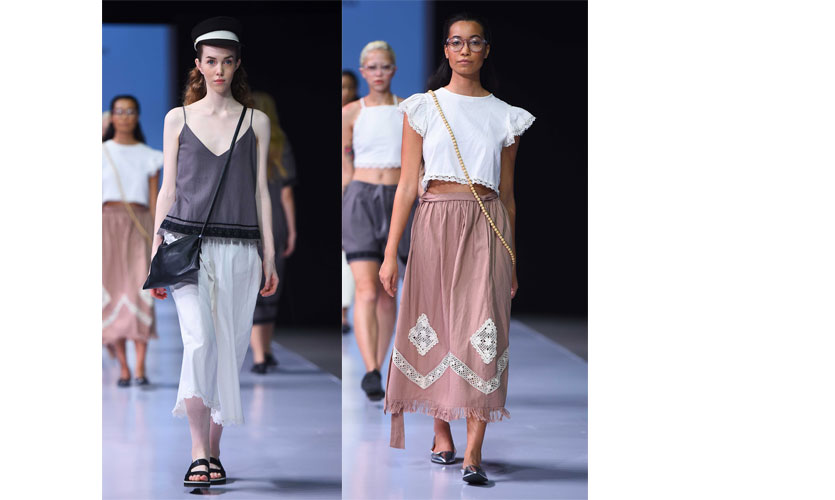 "I'm a graduate of AOD and it feels really good to be a part of this. Being that this is the first International Fashion Week in Sri Lanka – it really is a big privilege"
12.

GALLE IS CALLING BY P&D
Batik brand, P&D by designer Dinushi Pamunuwa, took to the runway with its first ever lounge collection. Using cotton and silk, the collection revolved around a tropical girl on vacation and featured a variety of handmade batik swimwear, loungewear, cover-up's and evening wear. Inspired by William Westwood's pirate collection, outfits with ruffles and frills with lines going vertically, horizontally and diagonally following a nautical theme in colours of red, white and blue walked down the ramp.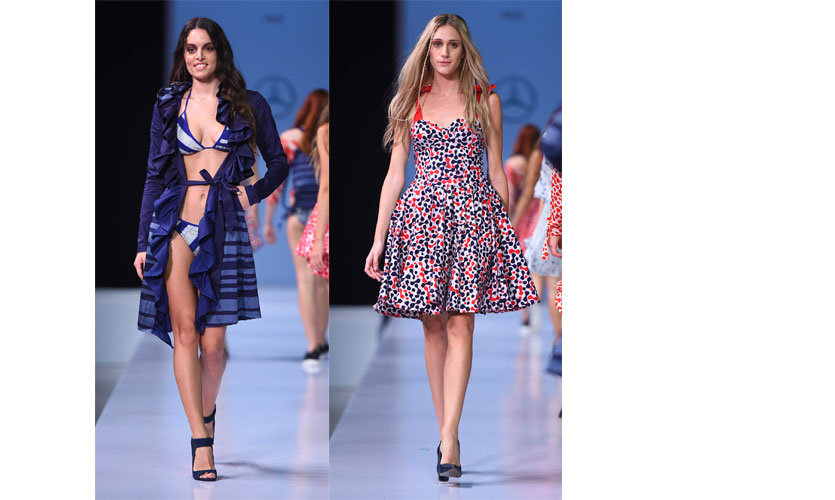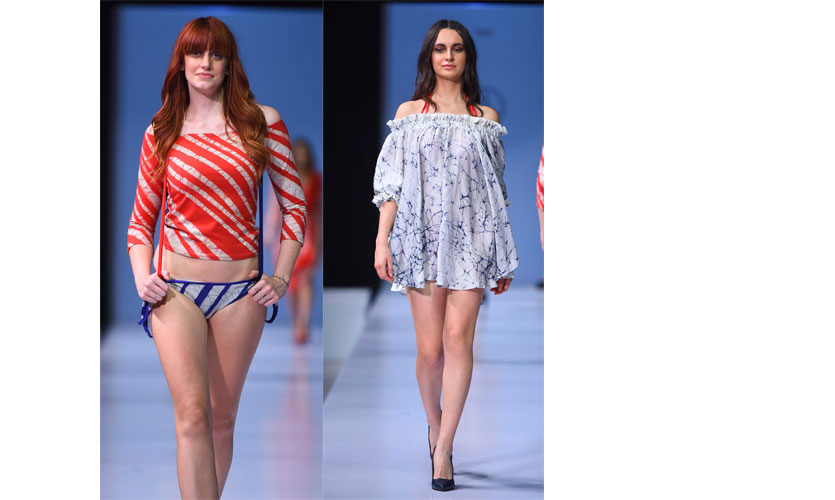 "This is truly a massive event. Its great exposure and designers get international marketing and is a great way to put out the brand out there and I'm just so excited to see the P&D label expanding from lingerie and resort wear for the first time"
13.

WORLD AT PLAY BY POORNIMA WIJENDRA
Changing the standard of beauty and sexiness, Poornima's collection was inspired by the energy whirlpool. This inclusive ensamble featured silhouettes of all kinds for all shapes of the body. Adopting an earthy vibrant tone as the colour scheme, Poornima recreated beauty standards on the runway. Her jewellery made by upsizing recycled fabrics stood out as a special feature in her collection.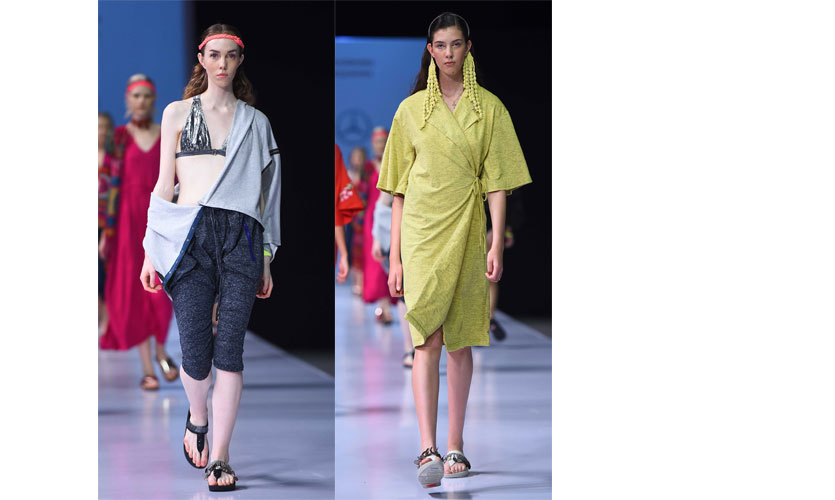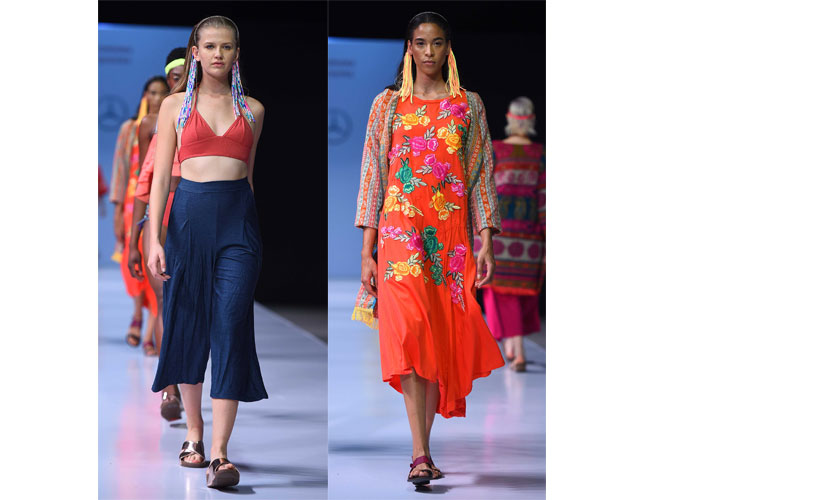 "It's a fantastic platform for creative beings to blossom and I was really excited!"
14.

IT'S A CASE OF WANDERLUST BY NIAMATH
A collection of batik prints in earthy tones, Niamath's ensamble featured a range of free flowing boxed sillhouettes. The collection had a tribal vibe to its name with traditional prints in muted colours of green, brown, maroon, purple and blue. Paired together with handcrafted jewlery made with coconut shells, the collection truly embodied Sri Lanka's traditonal craft industry.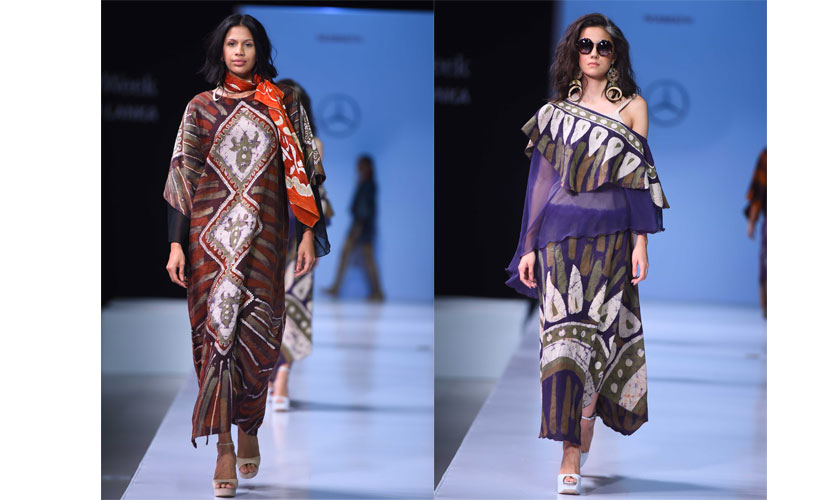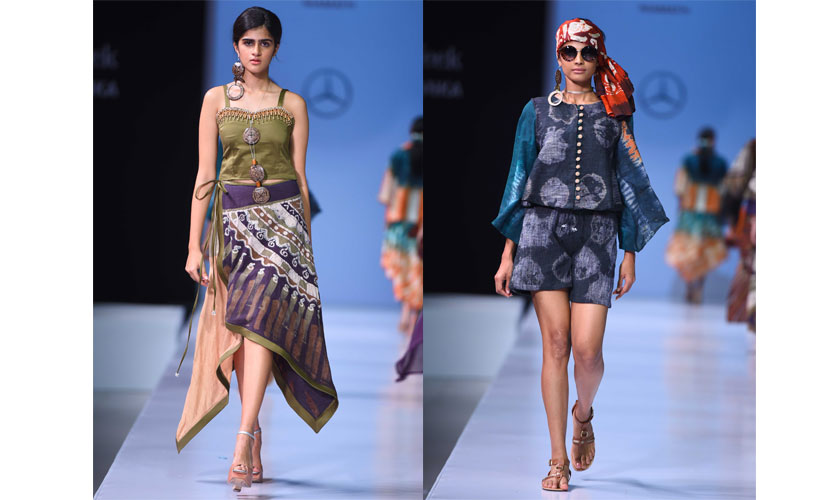 15.

AQUA FUTURITY BY RUM PUNCH
True to the brand's style ethos; Rum Punch took to the ramp in bold, exotic, vivacious colours. Luminecent hues of green, orange and pink dominated the ensamble and in a variety of one pieces and bikinis. A mix of solid colours and prints, the collection was vibrant and energetic.