The 20th anniversary concert of the Old Joes' Choir, 'Evolution: The Journey' will be held on the 23rd & 24th of September at the Lionel Wendt from 7.30pm onwards. The year 2017 marks the 20th Anniversary of The Old Joes' Choir (OJC) & the choral journey since the humble beginnings at the College Carol Service back in 1997.
They are known to bridge the void between music and theatre through choreography, variety & the songs itself thus entertaining our audience with a well-balanced thematic-choral performance.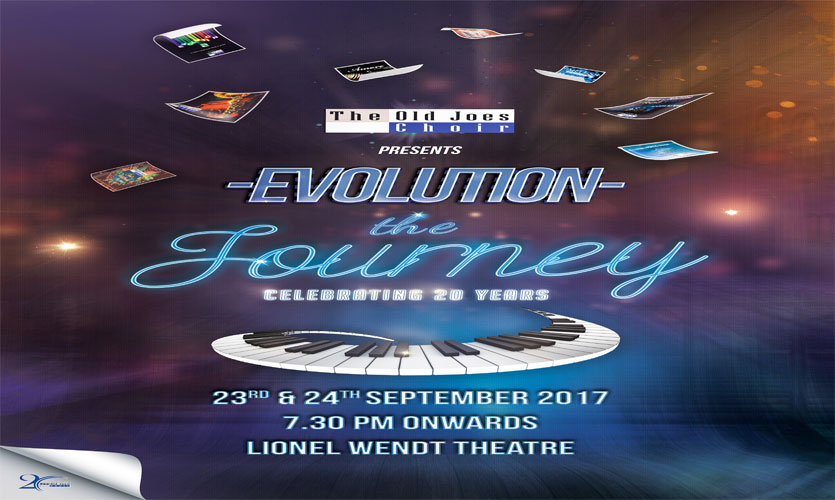 The choir has explored different styles and genres since its inception in 1997. From performing at corporate events to being crowned World Champions at the 2014 World Choir Games in Latvia, the journey of the OJC has undoubtedly been a remarkable one.
We also have global ties with the World Harmony Council & Barbershop Harmony Society which gives us exposure to a broader network of musicians world-wide.
Earlier this year, in April, the choir hosted a very successful thanksgiving spiritual performance as they gathered at the majestic College Chapel, where the OJC first performed 20 years ago. This was witnessed by a packed audience and ended with a standing ovation. Thier next performance, as the title suggests, will fittingly celebrate our 'Journey' thus far. The choir has evolved into a well-balanced entertainment outfit as are indeed grateful to the support system & loyal following they've had the privilege of experiencing till now.
The show will cover genres such as Pop, Rock, Barbershop, Funk, Jazz, A cappella and Dance while featuring songs by Queen, The Scorpions, Justin Timberlake, Michael Buble, Jason Mraz and many more!
The concert will also feature an original composition by Natasha Senanayake while the line-up will be spiced with soloists and cameo performances by talented artists.

"We invite all music lovers out there to come witness our anniversary show as we bring to you The best of the OJC… What we've become… And who we truly are!"

Tickets are priced at Rs. 2500, 2000, 1500 & 800 (Balcony) Ticket reservations can be made by calling Kaveen on 0779195284. They are also available at the Lionel Wendt.