How and why did you start your organization?
The Animals' Welfare & Protection Association was formed by a group of animal lovers in 1963, to alleviate the unhappy conditions endured by stray dogs and cats.
To provide shelter for the desperate and to work for the welfare of those on the streets - dogs and cats who undergo much suffering, lack food and shelter, contract diseases that remain untreated, breed continuously; and experience horrible accidents that leave them paralysed.
The Association is registered under the Companies' Ordinance in 1963 and is certified as a voluntary organisation under the Voluntary Social Service Act No.31 of 1980.
The AWPA Management Committee is passionate about what they do, and work very hard to alleviate the misery of animals:
Mrs. Hemantha Jayathilake - President,

Mr. Gamini Wimalasuriya – Treasurer
Mrs. Surangani De Silva – Vice President

Ms. Shiona Weerasekera- Secretary
Mrs. Ainthe Rajapaksa – Assistant Treasurer

Mr. Ranjit Samarasinghe
Ms. Iromi Salgado – Coordinator : Sterilisations

Mrs. Lalanthi Wijewardena
Mrs. Manel Jayasekera

Mrs. Sadhana Vikrantha
Mrs. Lathika Padmeperuma

Mrs. Kusum Salgado
Mr. Denesh Silva

Mr. Asoka Weerasekera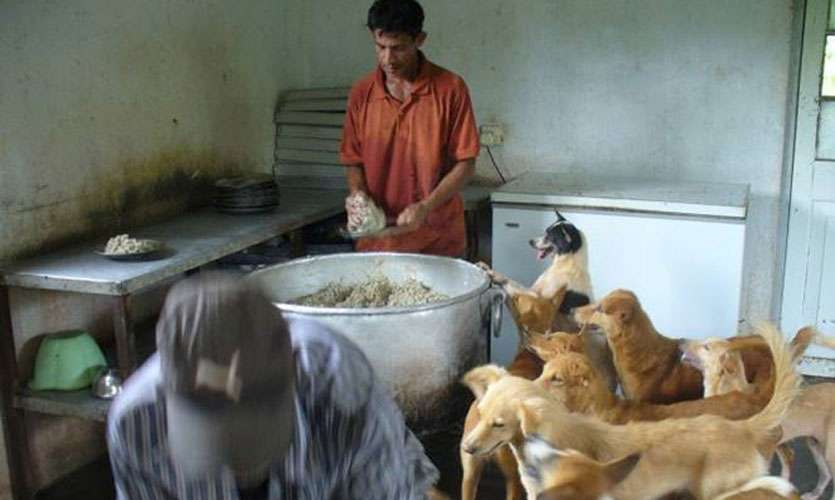 What is your main source of funding? (purely donations or other? Please state rough percentages if possible).
Our main source of funding is from donations given by our membership and other animal lovers, accounting for 90% of our income with approximately 10 % from fundraisers. Some give a dana or meal on a regular basis in memory of a loved one or a beloved pet, and some donate monthly. Some donate with direction – for sterilization only, feeding and medication only, and others also for specific rescues.
We receive no government funding.
Funding is an important area as we are mostly dependent on donations especially because we have the shelters which are at any given time a minimum 12-year commitment. As such careful and effective management of funds is essential and is carried out by the AWPA finance committee.
What kind of welfare activities is your organization involved with (rescuing, treatment etc.)
i. The AWPA's main activity is the running of 2 no kill free roaming shelters in Dehiwala and Kahatuduwa; providing safe havens for over 400 dogs and 80 cats. Both shelters have live in caretakers, aided by daily workers. Committee members visit on a regular basis to monitor and check on the operations, the health of the animals and the condition of the shelter. Every day we receive several calls to admit animals into our shelters and we just cannot accommodate anymore given the limited space. Any admittance currently is for exceptional cases like disabled animals.
We welcome and need volunteers to spend time at our shelters, especially to socialise with our dogs as well as the practical side of cleaning, painting, minor repairs; feeding, and bathing. And it is such a great experience – our dogs love people and many are quite demanding of affection!
ii. Sterilisation and rabies (ARV) immunisation: The AWPA advocates and implements sterilisation and immunisation as the most effective and humane method for dog population management and most importantly this supports the eradication of rabies programme. For large scale campaigns we follow the CNVR (Collect, Neuter, Vaccinate and return) practice which is recognized worldwide as the best practice. We also conduct sterilisation campaigns for dogs and cats at our shelters monthly. Additionally, we work with over 65 vets in different areas of the Island on a referral basis.
These sterilisation and immunisation clinics are provided free to low income pet owners, stray animals and to animal welfare individuals working with stray animals.
Sterilisation and immunization is very important given the issue of rabies and also overpopulation.
Sadly there is some intolerance for community dogs and we appeal for the support of these animals dogs who are sterilised and immunised. Most are friendly and provide dependable security too. Removal of these dogs will result in unknown, unsterilized and unvaccinated dogs coming in to the replace them. The friendship between man and dog is ancient. If you are an animal lover and there are dogs in your neigbhourhood. Please contact us and we will help you sterilize and immunize them.
iii. Rescuing of injured animals. The AWPA works with Vet Clinics where the animals are treated, warded and only released back depending on the animal's fitness. All rescued, disabled animals, for whom homes cannot be found, are admitted into our shelters. But this is becoming increasingly difficult as we are limited for space plus stretched to meet the very high veterinary cost involved in treating and boarding injured animals.
Recent rescues: White was found horribly injured near Jayawardenapura Hospital, and treatment took over 5 weeks. A full recovery was made; he was neutered, immunized for rabies, given the tricat and a home found for him.
Molly was found unable to move in Maradana- both legs on her right side were broken plus a horrible wound on front leg of the other side. For 3 weeks she did not walk, and it is only now she is recovering slowly and starting to walk. A gentle and friendly soul.
Woofy – an accident victim from Wattala, has a spinal fracture and will not walk again. She also had a nasty wound on her back crawling with maggots. Whilst in treatment, Woxy was brought in from Vauxhall Street screaming with pain – her issue is most unusal – Anal Atresia. Surgery was carried out but did not work despite great efforts. The vets decided not go ahead with any further surgery manage her food carefully. Woxy (very friendly) and Woofy ( a little shy), our special needs puppies are looked after very carefully at the shelter and are the best of friends. They are sweet, active and good natured dogs puppies despite their disabilities.
iv. Rehoming of animals through newspaper advertisements and social media. A challenging task as people's lives become busier, moving into apartments – the demand and the ability to maintain a dog is decreasing. Still, the demand for Pedigree dogs remain as evidenced in the breeding that takes place, especially the unscrupulous who breed with little care to the sires. Please think of our local dogs when adopting a dog – they are great dogs and moreover you save a life.
Please, please do not buy from petshops. Birds and animals are kept in deplorable conditions. If you want a pedigree/purebred dog, please check and ask to see the parents and their habitat – you may be supporting a very cruel environment when purchasing a pet otherwise.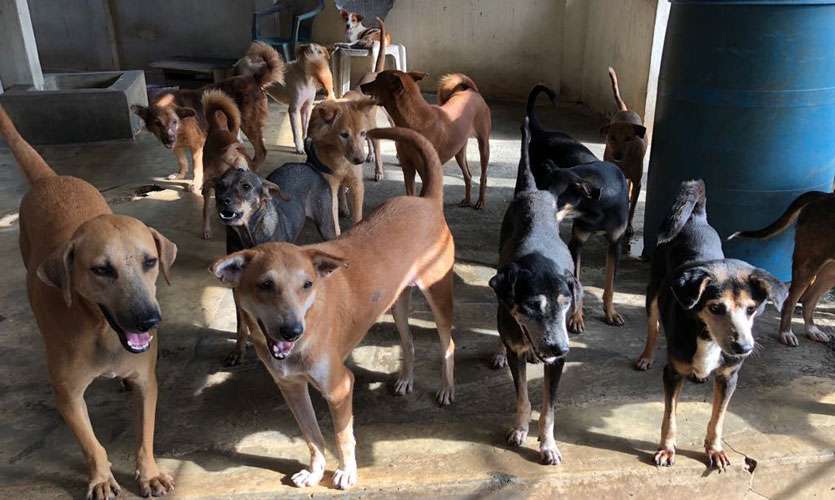 The Awpa also supports all efforts to pass the Animal Welfare bill which is now long overdue. In January 2016 Cabinet approval for the Bill was received however enactment is still pending.
The Awpa together with other animal welfare organisations meet with the relevant government departments to mobilise and accelerate government sterilisation which is vital to Island wide dog population management.
How are funds allocated for these activities?
70 % of our income is spent in running the shelters (feeding, veterinary care, shelter staff, utilities and other indirect costs). The balance is expended on sterilisation and rescues. In 2017, 80% of our income was spent directly on the animals, 15 % on shelter staff salaries and EPF/ETF. The Management committee is entirely voluntary.
What were the main welfare activities you undertook in the last 6 months?
Our main welfare activity on a daily basis is the running and maintenance of the shelters. Additionally, the Cattery was renovated, with the old mesh replaced and new shelving built for the cats.
Sterilisation campaigns were held in Moratuwa (3 locations), Ganemulla (2), Port of Colombo, Bandarawela(4 locations), the new Defence Headquarters in Pelawatte(2) and Kahatuduwa (2), Kadawatha and Pilliyandala - To date we have sterilized over 800 dogs and 110 cats.
We have rescued and treated many animals found in desperate situations.
Are you affiliated or working with any animal hospitals/vets in Sri Lanka? If so, who?
The AWPA main shelter vet is Dr. Wijesekera who also carries out our monthly shelter sterilisation clinics. Other vets too are called in when necessary.
For sterilisation campaigns, we work with Dr. Chamith Nanayakkara and Dr. Udaya Wijewardena, Bestcare Animal Hospital and Dr. Udayakantha Perera. For referral sterilisation and treatment we work mostly with Dr. S.S. Gallage, Dr. E.K Thilakaratne, Dr. R.I. Madushani and many more.
For seriously injured animal we work primarily with Bestcare Animal hospital.
What are the hidden costs in running an animal welfare organization?
For the AWPA, as the Committee are unpaid volunteers, it is their time, energy and manpower. There are no management staff on payroll. From visiting the shelters, handling the numerous daily phone calls (on our personal phones) on various animal welfare issues, attending sterilisation campaigns, the weekly and monthly meetings; absorbing urgent expenses. Furthermore attending to the administrative side as the AWPA is a registered organization with audited accounts.
All website costs too are not reflected as this is kindly sponsored by the developer themselves – Teknowledge Shared Services Pvt Ltd with zero cost to the AWPA. Similarly, there are other animal lovers who perform official administrative tasks for us with no charge to the AWPA.
Also in Sri Lanka – Organisations that benefit animals cannot attain charity status and as such the association has to pay taxes.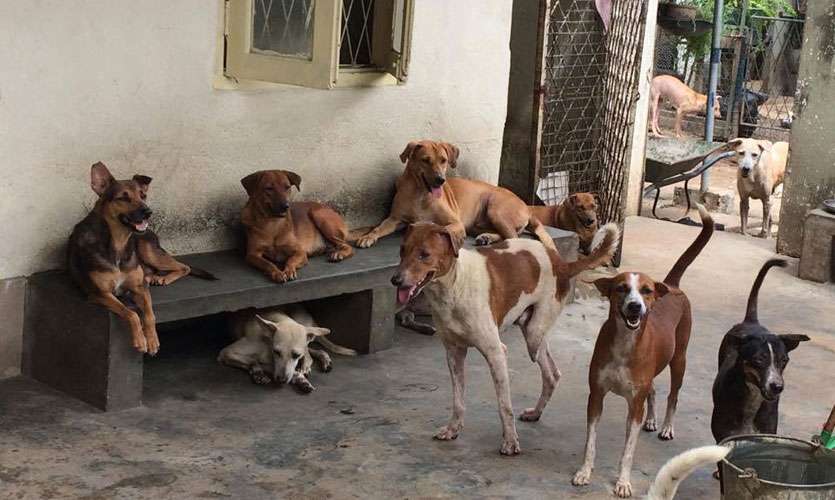 What's the process like from when a person makes a donation - from when the money is given to when the money is spent? Can you explain in detail?
All donations are credited to our bank account, either by direct bank transfer, or by the Assistant Treasurer for cash and cheques; and receipts issued accordingly. Payments are made by cheques which are written at our weekly finance meetings. Vouchers are raised and 2 signatures are required to authorize the payment. Some donors are specific and give direction for their donation: for feeding, for medication for sterilisation for rescues and we follow this guidance as instructed.
What areas within Sri Lanka do you operate in?
Shelters : Dehiwela and Kahathuduwa.
Sterilisation campaigns have been conducted in Jaffna, Bandarawella, Badulla amongst others. The vet teams we work with can implement programmes island wide.
Other than cash, what other kind of assistance are you in need of?
-Dry rations , Dog ( Pedigree, Eukaneba, Royal Canin) and cat ( Whiskas, Mieow) food, milk, chicken, fish, Dog and cat treats. The dogs also love the change of a good cooked meal!
- Chlorhexidine Cetrimede Disinfectants, handwash
- Tick and flea treatments : Frontline, Frontline Combo, Nexguard,
- Worming Drontal Plus, Pyrantine syrup & tabs
- Dog shampoos : Margosol shampoo, Pet Hex shampoo
- Old towels, T shirts, etc for our dogs to sleep on, especially the disabled.
- Volunteers at the shelter, at sterilisation campaigns, with fundraising activities
Dehiwela Shelter : Renovations.
Sterilisation campaigns: Mahiyangana, Panadura, Kadawatha, Wathuragama, Jaffna and many more ; the demand is very high and we implement as per the funds we receive. With increased funding we can do more sterilisations which will reduce unwanted litters and the accident victims.
Sale - 27th July 2018 @ Sooriya Village, Colombo, a sale of paintings, glassware and better quality nearly new clothes. Please help and donate items for our sale.
This will also be a puppy adoption day. So please do come and meet us, support us and the puppies.
Raffle - Rs.50/- per ticket , 20 in a ticket book. One book costs Rs.1,000/- to support the raffle please call Mrs. Surangani De Silva on 0112587116 or email shiona.space@gmail.com
shiona.space@gmail.com 0773450031- General
iromi54@gmail.com 0776565181 - adoption & sterilisation
ainthe.rajapaksa@gmail.com 0777034671- donations
Account name: Animals' Welfare and Protection Association
Account number : 0001629496
Bank name: Bank of Ceylon
Bank branch: Kollupitiya Super Grade 034
We appeal for your support – please donate and help us help more animals.
Please let us know when depositing/ transferring - how much and how you want the funds spent ( dane, medication, sterilisation) ; and your address so that we can send you a receipt and reconcile our accounts.
Cash and cheques to : Assistant Treasurer is : Mrs. Ainthe Rajapaksa
29, Frankfurt place , Colombo 4