Everything about Tony is music. Having entertained crowds for the past 50 years, Tony Christie was known for asking his way to Amarillo. With this breakthrough which took place in 1971 with two other chart-toppers including 'Las Vegas' and 'I Did What I Did For Maria', Tony contributed to the changing landscape of the industry back then. At 74, Tony still believes he has to keep himself busy and he never gets tired of his gigs.
During a recent visit to Sri Lanka, we were honoured to have a chat with this legendary musician, singer and actor.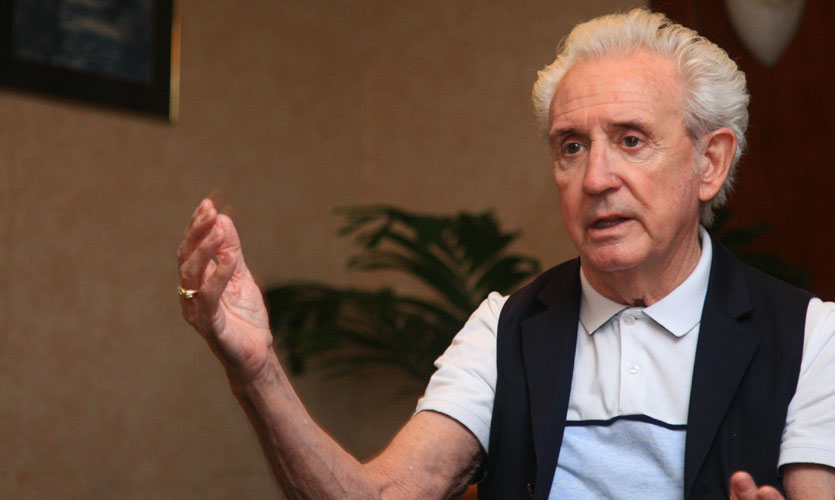 Q : Is this your first time in an Asian country?
A : Yes it is. I see the changing landscapes and many colonial buildings here. I haven't toured in Asia but will be having some gigs in China soon. Big concerts are being done to revive my songs and catch up with the crowds. I keep working, you retire when you die. I used to play golf but I can't anymore after I had an injury. So I regret it.

Q : How has your career taken you to where you are today?
A : Before I started doing my own tracks, I used to sing at local pubs and entertain the crowds. My son started working with me since he was 15. The culture was different. I would finish a gig, go to the pub and have a drink. After some time I started singing as a soloist and worked on my first single in 1966. But 'Las Vegas' topped charts in 1971 and that was when people started to pay attention to my songs. This was followed by 'Is this the way to Amarillo' which also became a number one hit. While in Germany, I did a lot of work and even while in Spain I did many recordings to keep myself occupied. As such, I have done many Country and Pop albums.

Q : What's special about the song 'Amarillo'?
A : It happened because one day my manager asked if I have any songs. I then played Amarillo but I haven't finished composing or haven't done the lyrics. So I went 'Sha la la la la..' which actually is the part that people remember and sing even today. The best part is I recorded two songs at the same session that day.
Q : How is it like to be a celebrity back then and now?
A : It's still nice to be one. I have made several appearances lately and the crowds have warmly welcomed me. It's good to know that people have been following your work and appreciating them. I try to keep my shows interesting so that the crowd is with me until the end. I will be releasing my new album next year and it's going to be a very modern concept.

Q : What got you into acting?
A : I played the role of Magaldi in Evita back in 1976 in its original album recording. I then made an appearance in Dreamboats and Petticoats, playing Older Bobby and Phil. I have been in various TV shows and have always been occupied with work. That really keeps me going.

Q : What are your thoughts about the music industry today?
A : Modern music has changed a lot. But I see some of the melodies going back to those in the early days. The young entertainers have started using guitars, bass and drums quite creatively.
Q : Do you think that today's generation is interested in music of your time?
A : I think so. Their parents grew up listening to my music and probably they too may have heard them at one point in their life. So I believe that it is nothing to new to them. They appreciate my music and from the feedback I get I realise that I have served justice.

Q : What will you be doing next?
A : After I get back I will be doing a Christmas show for the next five weeks and then start work on my next album. I have also done a Christmas single and there will be a lot of people in the video. Once I get back home, I'll be starting on its promotion work as well.
Check out our review of the show here.
Pics by Damith Wickramasinghe