Being only one month old, this new street food restaurant is already a hit! They are a restaurant on the side of Hill Street, Dehiwala with six different types of food; Universal Square, Sticky Wing Mews, Hotdog & Burger Alley, Jalan Makan, Juice & Shake Corner and Chai Stop are the six places that you can choose from.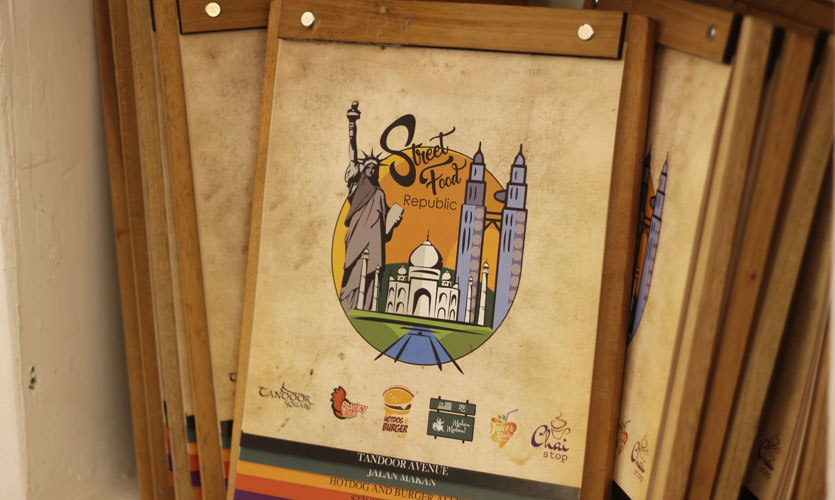 Initially, they wanted to create separate stalls to give a street vibe to the restaurant. However, their current setting is also quite nice. The fairy lights and modest table settings suit the restaurant's theme. Their drink and dessert making section (Chai Stop and Juice & Shake Corner) is set outside while the main kitchen is on the inside. As you enter, you'd see a rather quirky seating area that reminds you of the junk yard where the cool boys hang out. All that was missing was graffiti.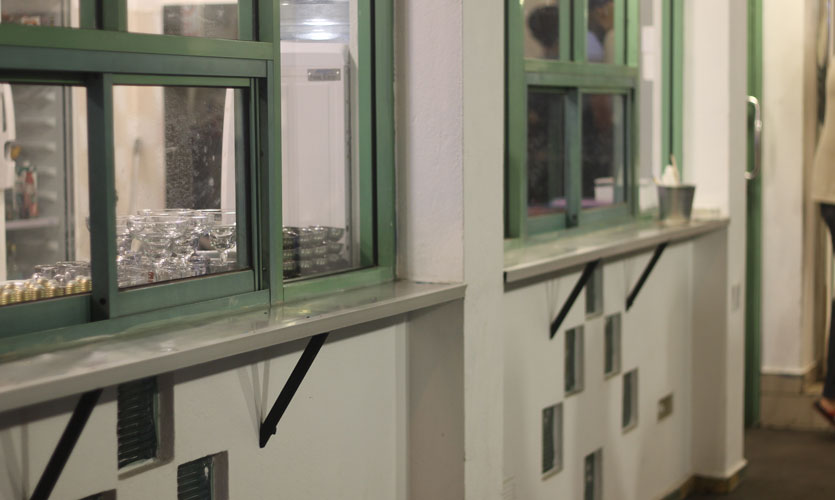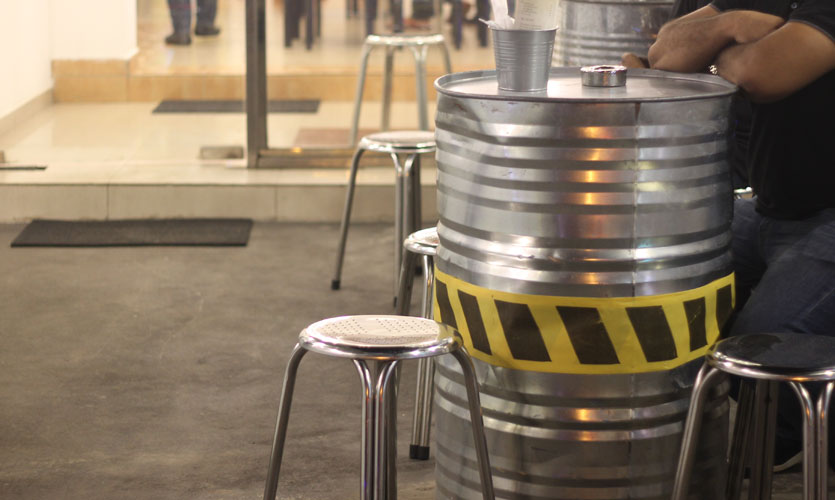 "We want to keep each dish as authentic and real as possible. It is important that the flavours are true to the place it originated from," says Nuaim Naleef, Partner.
For drinks we tried their Dino Milo (Rs.600). This was a Milo milkshake with a generous drizzle of powdered Milo on top. This is a sweet milkshake that is generously poured. However, we felt that the price was questionable. The Dino Milo is a good alternative for those who like their traditional Milo drink.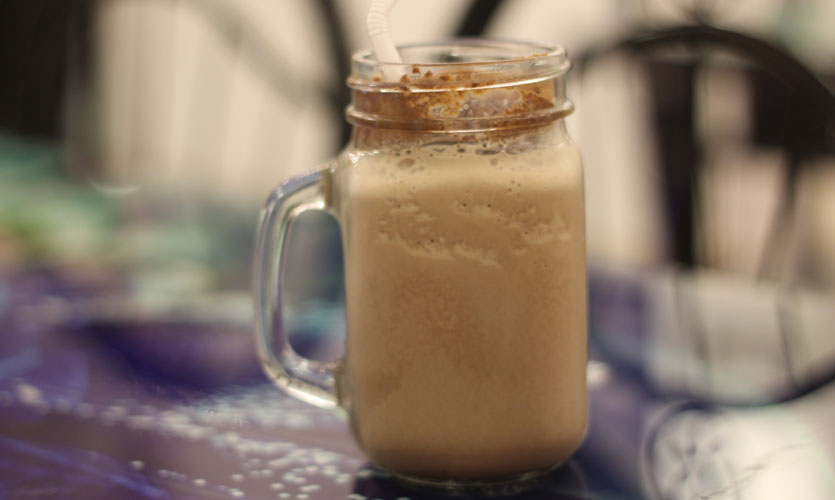 We then tried their 10pc chicken wings (Rs.750) with the Atomic Sauce (their spiciest one) from the Sticky Wings Mews corner. We were expecting a mouth burning experience, but thankfully it was not. The sauce was a bit too dry for our preference, but had a good spicy flavour overall. Two can gobble up this plate of wings!
We then moved on to their Universal Square Arabic Meat Plate (Rs.750). This was a great dish. The dish was easy to eat as the meat was diced into small cubes. The sauce drizzled on top of the meat tasted like authentic shawarma sauce. This is best eaten when it is warn and freshly served. The price was worth it mainly because of the portion size and the fact that it came with a side of French fries. (Pretty good rhyme, huh?) This needs to be eaten with your hands.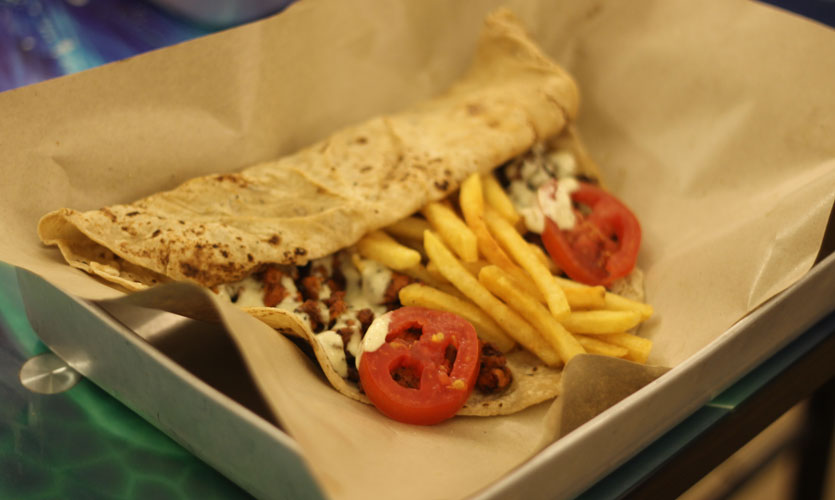 Their 'BLT' Burger from the Hotdog & Burger Alley (Rs.500) was a portion of freshly made burger & fries with a batter crumb bacon slice and a patty underneath. This too was quite unique. The best part about it was its freshness and flavour. No one likes generic burgers, right?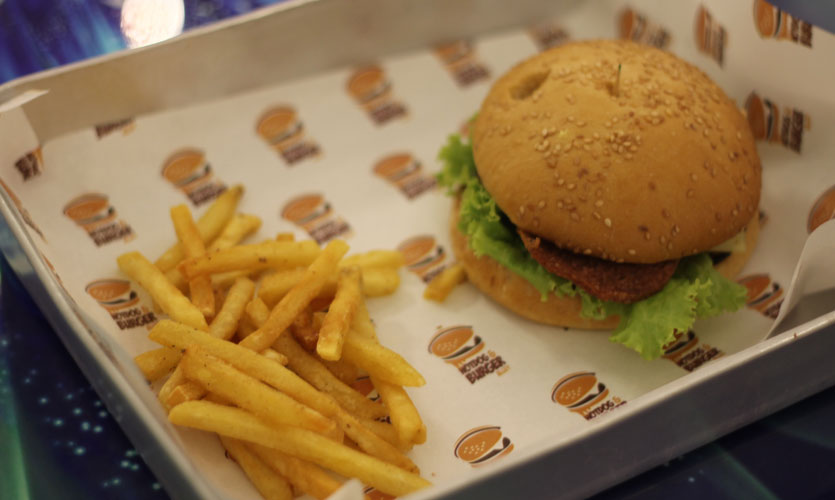 We then moved on to the heavy dishes – Nasi Goreng and Satay Chicken from the Jalan Makan! The Nasi Goreng (Rs.550) was a generous plate of rice that one cannot finish if they aren't hungry. They told us that two people usually share a plate. However, there was only a small piece of chicken that was enough for one. The flavours were pretty authentic as promised.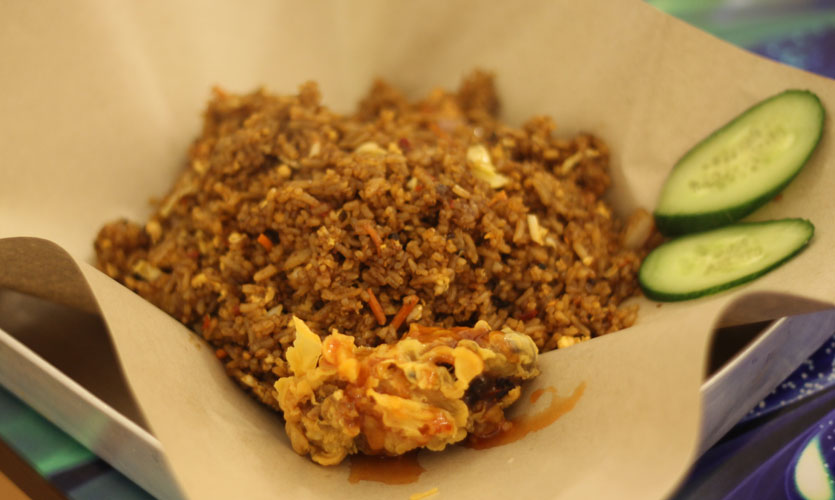 The 6pc Chicken Satay (Rs.600) was another favourite. The satay chicken had a good peanut flavour and was filling as a meal itself. Don't let the small portion of rice fool you. The marinade for the chicken is homemade. This is something we recommend you try.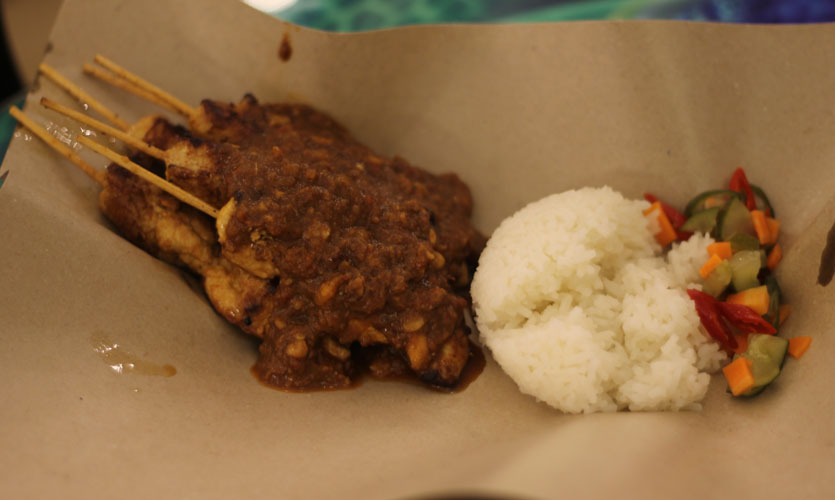 We also tried the Assam Laksa (Rs.700). This was a seafood noodle soup with cuttlefish and prawn. Its thick soup base was delicious and the prawns & cuttlefish retained its crunch. It had a good Malaysian curry taste in the broth. The bowl of soup is enough for two seafood loving people. The noodles and seafood fill your tummy and unlike other soups, this isn't a starter but a main course.
We then tried the Masala Chai from the Chai Stop (Rs.100) which was a bit too strong for our taste. They do not add sugar and serve the sugar syrup in a light bulb like bottle.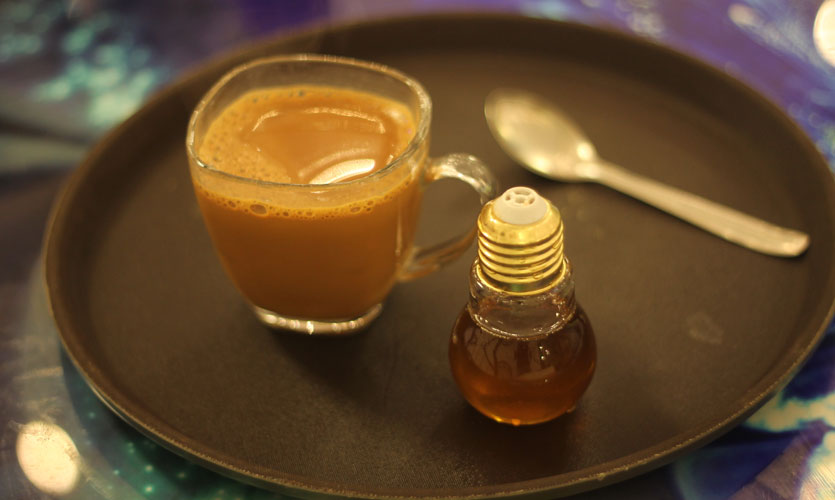 For dessert, we ordered the Banana Split from the Universal Sqaure (Rs.400). This dessert had two scoops of chocolate ice cream layered on a split banana and a peanut butter lathered hot dog bun. After all the food we tried, this was too much for our tummies to take in. The dessert was not the greatest for the price it comes for. Ps. it needs to be held and eaten.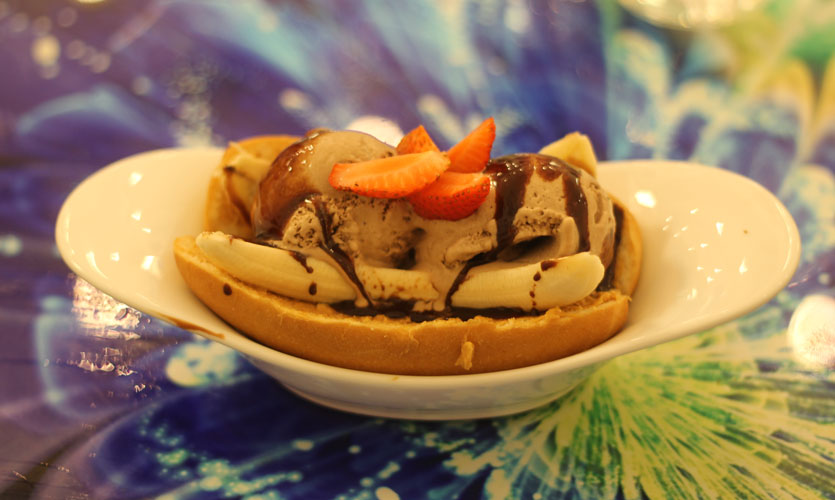 Overall, Street Food Republic is a fantastic food spot with each item having a unique taste and quality. They plan on expanding their menu soon. Additionally, they have a shisha lounge (Rs.1800 per shisha – 2 sharing) upstairs and an in-progress seating space with a surprise theme.
Parking may be an issue.
Prices on the menu are all inclusive. (No additional charges)
Toilets and hand washing areas available.
Baby chair is also available.
Open from: 6:00pm – 11:00 pm
Tel: 0764483344
Address: 112A, Hill Street Dehiwala
Instagram: @streetfoodrepubliclk
Facebook: https://www.facebook.com/streetfoodrepubliclk/
Pictures by Madushi Rajapaksha