Full name - Natasha Dulani Saravanamuttu aka DJ Cinde Rella
Date of Birth - April 22, 1982
Education
Primary School – Killarney Heights Primary School, Sydney Australia
High School – St John's International School, Brussels, Belgium where I obtained an International Baccalaureate
Undergraduate – BA (Honours) in Business and Marketing from the University of Westminster, London
Postgraduate – MSc in International Conflict from the Kingston University, London UK
Area of employment
DJ and Radio Presenter on The Beat London 103.6FM
TV Presenter on Trinity One TV.
Human Resources Officer for T2 Tea

We all know that as women we have to work that much harder to be taken seriously in our field of work and this is just what Natasha Saravanamuttu aka DJ Cinde Rella has done. Born in Sri Lanka and raised in Belgium, Australia and the UK, her colourful, charming personality and her charismatic nature along with her love for music have taken her to great heights in the fields of DJing and presenting.

Below is a Q&A we had with Natasha:
How did you get involved in DJing and why?
I've always loved music. I couldn't dance or sing so that was not a possible route for me into music. I always thought DJing was super cool and considering I'm a little bit of a show girl, I thought that would be a great way for me to express my passion for music.
I've always loved to party and had friends who were DJs and it fascinated me. One day I asked a friend of mine to show me some of the basics, and both of us were pleasantly shocked by how quickly I picked it up.

I only played around with it initially and didn't think about making a career out of it straight away until three of my friends and I started an all female events management company called Dame Du Show Productions where we put on themed club nights and I became our official DJ.

My first gig was in front of 300 people. Needless to say I was overly nervous and hid in the toilet until my best friend and sister, my business partners, found me and gave me a serious pep talk and I went out and played the worst set of my life!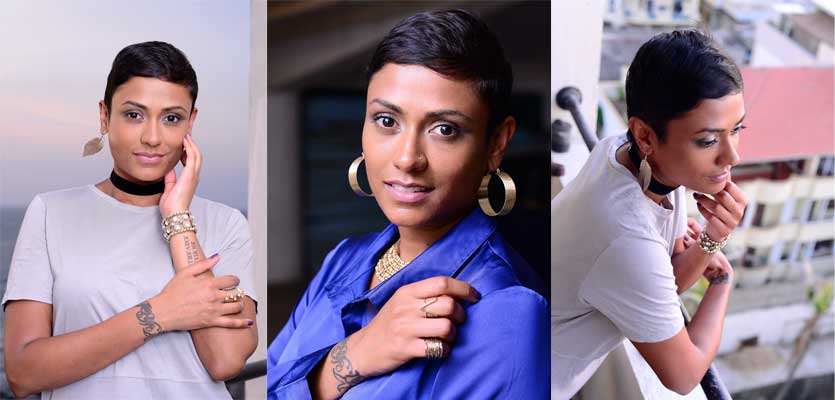 In retrospect, I laugh at myself but as they say when you're thrown into the deep end you either sink or swim. After that, I swam my way to more gigs of that scale. I went in and I went hard!
What are the interesting aspects of being a DJ?
What I love the most is how you can make music fun for people. If you know how to mix the right song into the one that's playing, you can provide your audience with a truly enjoyable experience. Connecting with your audience and being able to read them is so important.
Another interesting aspect is the different types of people you meet and seeing how no matter what differences people have, music is truly universal and brings people together.
Has being a DJ paved the way for any other areas of interest?
Yes definitely. I worked hard to build my profile on the DJ Circuit and it opened the door to my radio and presenting career. I'm now on The Beat London hosting a radio show every Monday from 1-4 pm GMT. I hosted the House of iKons Fashion show during London Fashion Week (September 2015) and since I'm also a presenter for Trinity One TV which I started in February 2016.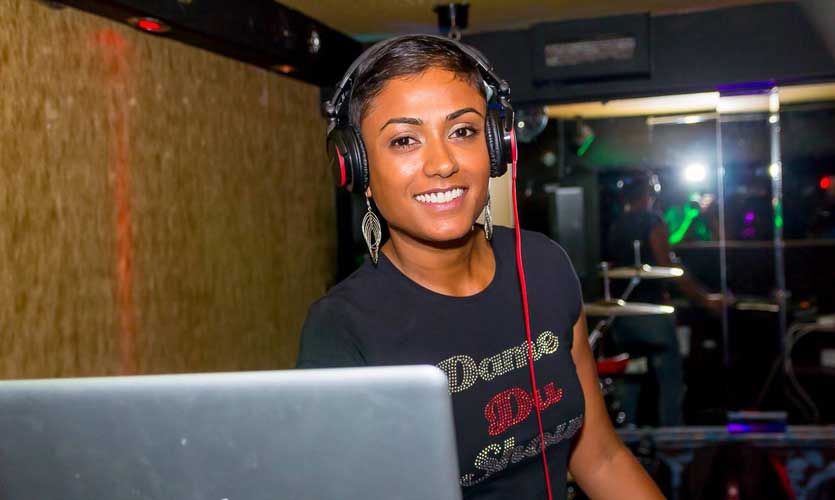 Take us through your normal daily routine?
It is busy! I work nights mainly so I try and get at least six hours of sleep which means my days start late. I normally need lots of tea or coffee to kick start the day.

I then get on to some social media work, practise my mixing, download music, read up on artist news, look for new music, make calls and respond to emails.

There are also days where things come up on short notice. You've planned your day but an opportunity, meeting or gig presents itself and you have to respond. It can be exciting and stressful.
What was compering at London Fashion Week like?
It was such an awesome experience. I was approached by House of iKons to host their Fashion Show for emerging designers during LFW in September 2015 and February 2016. I'd say it's similar to DJing in that your audience is in front of you. You can see them and work off their energy. I love live hosting and I want to do more of it.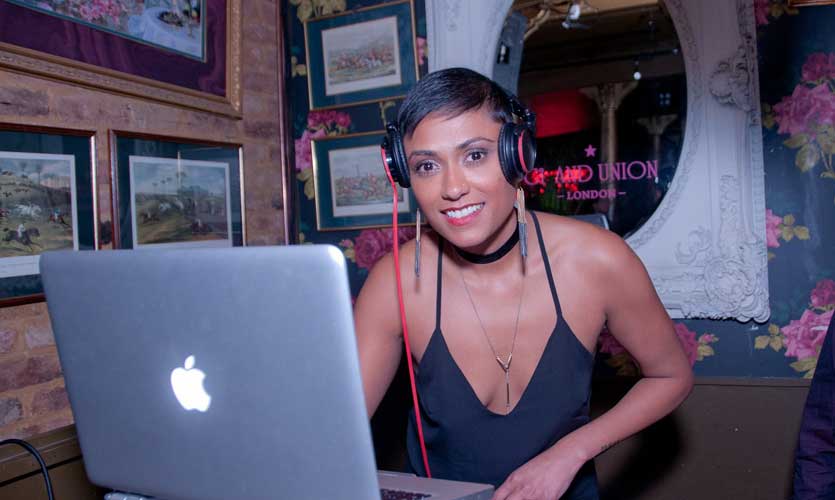 What advice would you give to girls out there who are interested in the same profession/s as you?
Make sure you have a good selection of songs! Being a good DJ is not just about your technical capacity but having the right songs to appeal to your audience. There are some tracks that are just guaranteed to make people dance, get those in your collection!

Be passionate and get really, really good at what you do. As a woman, you have to work harder to be taken seriously so master your craft.
Seize every opportunity that comes up because you never know which one will lead you to a bigger opportunity. In the process always build your network. A lot of the opportunities I got were through meeting and connecting with certain people. Some of those contacts can come in
very useful.

Most importantly though remember to have fun and love what you do.
How would you empower women to pursue what they love in spite of the obstacles they may have to overcome?
I think again, passion plays a big part in your success and desire to carry on. If you're passionate and believe in yourself, obstacles turn into exciting challenges.
We understand that you played a gig in Sri Lanka, what was that like?
It was pretty awesome to be able to DJ in the country I was born. Again, thanks to my network I was able to get an introduction to the promoter for a club called Clique in Colombo. I was nervous, I didn't know what the crowd would be like but I guess that's where experience comes in. I've DJ'd for a long time and to a variety of audiences so I knew I would find a way to adapt. It goes back to what I said about music being universal. No matter where you are in the world, music has a way of crossing borders and connecting with people from various cultures and walks of life so I trusted myself to play the right songs and to ensure people enjoyed their night.
Pics by Kanishke Ganewatte and courtesy Natasha Saravanamuttu