Today on the Buzz I have someone who loves giving back with her talent, With well over 15 years of experience in crafting inimitable pieces of art that is a true reflection of creativity, Dillai Joseph is a self-taught artist who later honed her skills under the tutelage of Nadine David. The latter was a student of David Paynter. Dillai's art can be described as being a mix of classical and contemporary style painting with a love for portraying the human form and bringing out the spirit of the seemingly mundane. And when each piece speaks a story and some move you beyond words.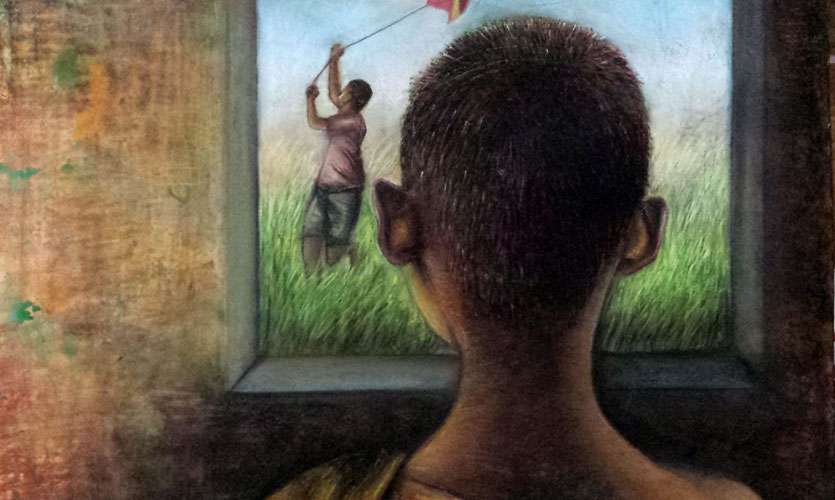 With a many years spent in the field of Advertising, she studied Communication, Design and Marketing, and enjoyed filling the roles of Art Director and later Creative Director in advertising agencies in Sri Lanka. At present, she divides her time by running her own niche creative adshop, which is known as The Next Big Think (www.thenextbigthink.co), painting during the early hours of the morning, and being the strong-willed mum of two exuberant and creative children. And if you ever ask her to call you expect a call at 5am on even a SUNDAY!
Soulscapes will be exhibiting at the Lionel Wendt Art Gallery from the 5th to the 7th of October 2018 . 5th is the preview for invitees only while 6th and 7th of October will be for the public.

Tell me about your new exhibition?
This is my second solo exhibition. The first one was called People, Puddles and Paradise. I have been part of few joint exhibitions in between. I have been studying the young to middle aged woman mainly for my new work and I explore her inner and outerself in the new exhibition.
What inspires you?
Actually everything that is not perfect inspires me. People's lives and their feeling about different things inspire me. Even in nature what is not perfect is what draws my attention. Especially in this exhibition what has inspired me the most is the imperfections/ feelings of women and celebrating them. For that's what makes us so colourful and who we are. Most of what I have painted. have stories behind them. People who have come into my life and maybe also from my own life. I often find many have different stories which boils down to common interests and feelings.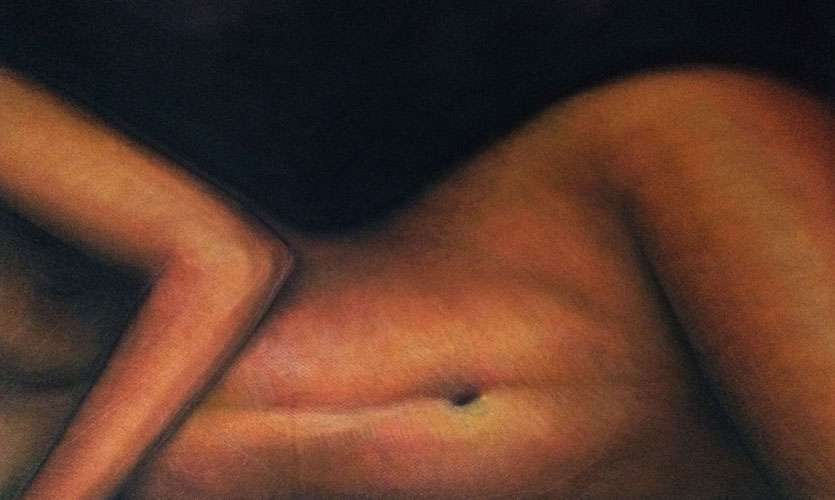 Your title for this is "Soulscapes" what's the thinking behind it?
The upcoming exhibition Soulscapes, explores more than just the human form in its theme – It is an artistic exploration of the human soul. I particularly depict the woman's soul in her barest form. The innermost desires, awakened feelings, beastly hungers and dormant daydreams find their place on canvas in my portrayal of the 'I' within every woman. My work speaks of an aim to provoke a sense of exploration of oneself; I look at the deep nature of the woman within, beyond a body of just flesh and skin. My paintings try to portray as much nature as possible. I use a lot of trees as a source of security and companionship. My tree studies are mainly from the Borella cemetery.

How long were you working on this, and how was the process?
I have been working on it for the last 2 years. It's a slow process for me as I have to balance work, home and two kids. I consider art to be like my third child. It's a labour of love. Every time I work on something I put so much effort into the preparatory work that each piece has a story. I would say I am a slow painter. Some paintings can go on for a month or may be more. I work during the early hours in the morning, sometimes 3 am at times 4 am when everyone is asleep and does not disturb me. I have my space to do what I want. Since these types of spaces are very difficult to get therefore I do have to limit my times to the morning hours.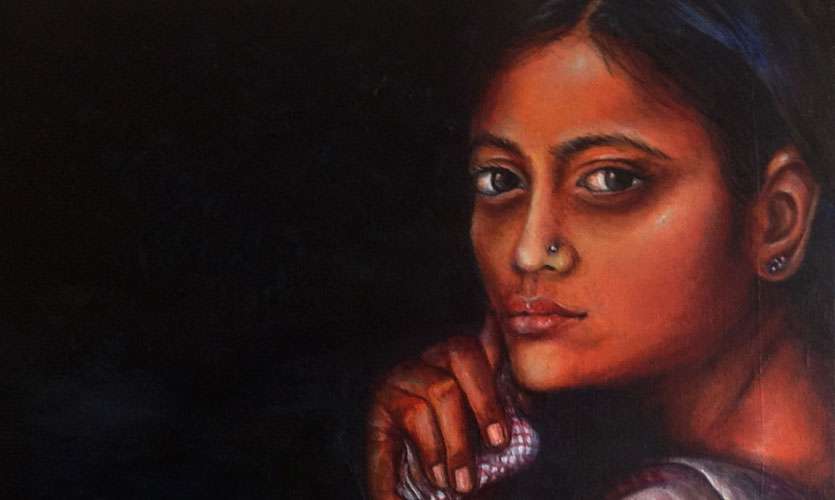 What is it like to be a mom, being in advertising and an artist?
Its tough. Time management is the toughest. You are constantly trying to juggle being a good mother, doing your business work and then pursuing your passion. At times it gets very tough and you know that you can't do everything perfectly. I sacrifice sleep when I have to. The most difficult part is to get personal space. When no one talks to you and you have time for yourself to paint which is why I wake up early in the morning when everyone is a sleep. I dont' hear anything. No one wants anything from me at the time.

You have a great project which you are supporting through this, tell me what made you sign up with this cause?
To begin with I have two small kids. I always think about my children's safety. As a mother you always worry for your children and I do believe that childhood needs to be preserved at any cost. When children are abused, it has a lasting effect. As an adult your relationships and how you behave is governed by your childhood. This is why I feel for this cause.There has been a sharp rise in child abuse in the recent past. In Sri Lanka people sweep things under the carpet, they don't address it and there is no place for it to be addressed in the correct manner. There are very few places that provide such a service. Funding is badly needed to run counselling centers, residential therapeutic programs with qualified psychologists and house parents, family follow up officers to co-ordinate medical and legal needs of the child. When I went for a drama that was done by this organisation called Leads, I just couldn't stomach it. I left half way and it remained in my head until I decided to do this exhibition. I felt I could use my skill to see how I could help them.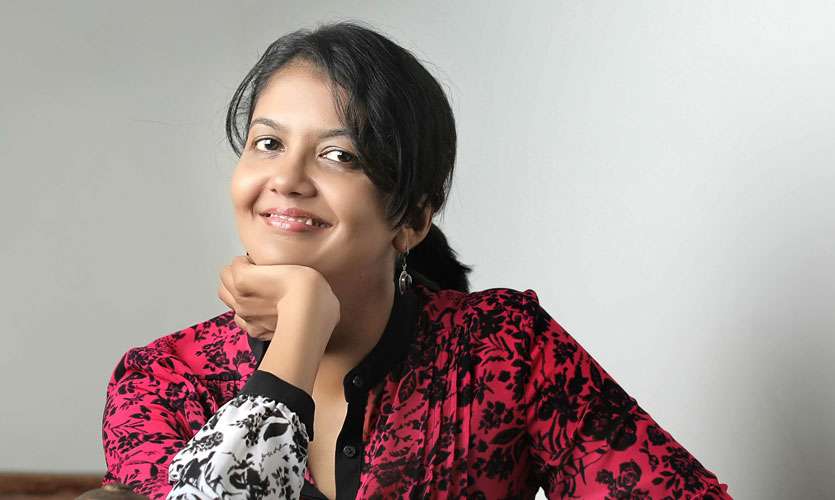 Tell me about Leads. What do they do?
Leads is a National NGO established in 1985, with charity status, through its child protection division ESCAPE (Eradication Sexual Child Abuse, Prostitution and Exploitation). LEADS works towards restoring the lives of children who are abused through psycho-social support, counselling, advocating and by ensuring justice for children through legal support. Child protection work, with services for psycho-social care and legal guidance for survivors of child abuse is still a developing sector in Sri Lanka. There is a lack of resources and support which unfortunately corresponds with an increase in reports of child abuse in Sri Lanka. Reports of child abuse have risen in recent years; statistics obtained from the NCPA (National Child Protection Authority), indicate an alarming increase in the number of child abuse-related complaints and have launched investigations into 1,532 child abuse incidents within the months of January and February 2018 and the Chairperson of the NCPA, Mrs Marini de Livera stated that 50 complaints of rape incidents were reported with 364 of the complaints related to mental and physical harassment of children. Most incidents were reported in Gampaha, Colombo, Kalutara, Kurunegala, Ratnapura and Puttalam Districts while the Jaffna, Mannar, Mullaitivu, Batticaloa and Kilinochchi districts have also shown an increasing trend in incidence.

When? Where? What time is the exhibition?
Soulscapes will be exhibiting at the Lionel Wendt Art Gallery from the 5th to the 7th of October 2018 . 5th is the preview for invitees only while the 6th and 7th of October will be for the public