When we first dropped by Isso, they were a fledgling takeaway-centric spot that had figured out their niche in the market, and an almost instantaneous success soon put Isso on the foodie map. Founded by a group of friends - Apinash Sivagumaran, Fawaz Fassi and Shuaib Yussog - Isso cemented itself among foodies in Colombo as a one stop shop for their prawn related cravings. Isso recently unveiled their new location down Ananda Coomaraswamy Mawatha, a few doors down from Cinnamon Red.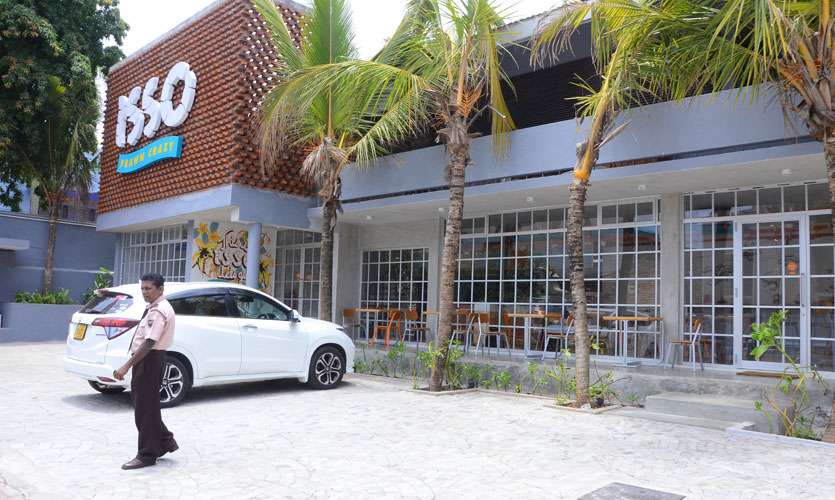 Ambience
The Isso in Colombo 5 (now Isso Express) was a relatively compact space that offered limited seating, and focused more on takeaways. The new location, however, is their dine-in restaurant that takes up a larger space and has plenty of seating. The colour theme remains the same between both their outlets; neutral, earthy colour tones for the furniture and teal and orange trimmings. French windows provide plenty of natural lighting and makes the space incredibly inviting. We absolutely loved their casual dining ambience with the open kitchen concept.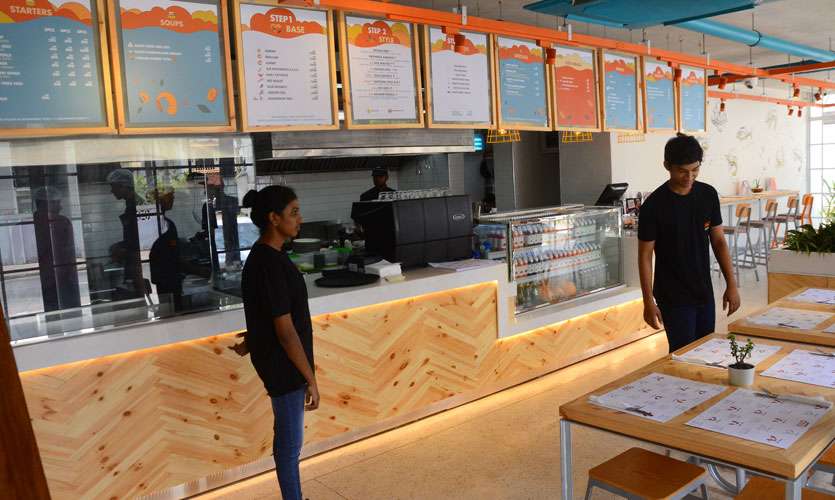 Drinks
The drinks menu here is quite limited, as their focus is the food. However, Kade Chai (Rs. 390) and Iced Milo (Rs. 590) are prepared in house, while they also have drinks from the Berry Company (Rs. 390) as well as Thambili (Rs. 190). We picked two flavours from the Berry Company - Black Tea and Superberries, as well as the Iced Milo. The Iced Milo is served with Milo Powder at the bottom and the top of a tall glass, with the milk in between. You stir the drink yourself, so bits of hardened Milo powder are part of the deal, which may or may not be your thing. We weren't really perturbed by it, but you may want to let them know beforehand if you would.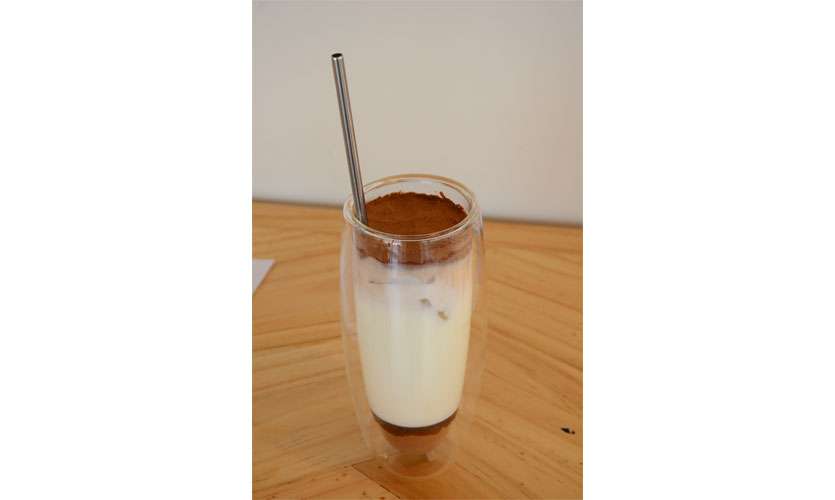 Food
While Isso was always focused on - you guessed it - prawns, they have now diversified their menu to include a variety of seafood offerings as well as accommodate vegetarian diners. They also have a Kids Menu ( Shrimp and Chips, Mac and Cheese, Fish Nuggets and Chips, Mini Pizza) and a Specials Menu, while they have also added a flavour or two to their usual line up. For starters we tried their Calamari Rings and their Batter Fried Isso (2PCS - Rs. 290, 4PCS - Rs. 490, 8PCS - Rs. 890) as well as some Sweet Potato Fries. The starters were all well fried and flavourful. The Calamari Rings came with two dips (which worked for all three starters).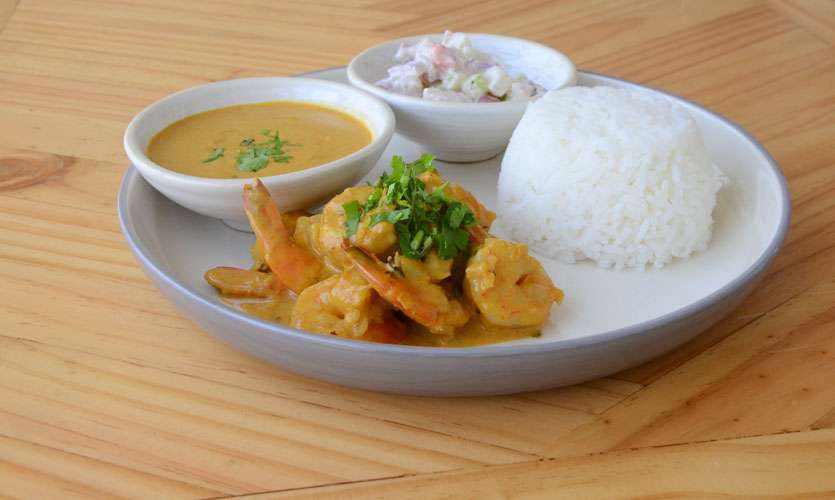 Isso has also introduced soup to their menu and had three varieties to pick from - Sweet Corn and Egg, Roast Pumpkin and Walnut, and Catalan Shrimp Stew. We decided to skip soup and head straight for the mains and the specials. The menu is on full display at Isso, and ordering is easy. Unless you pick from the Specials Menu or the Kids Menu, the 3 step ordering process is very straightforward. You first pick the base, followed by the style, followed by the sides. The base is where you will see the biggest difference in the menu, in addition to the different prawn sizes - Shrimp (Rs. 1290), Regular (Rs.1590) and Jumbo (Rs.1890) - you will now also be able to choose between The Notorious Issa, Baby Octopus, Red Mullet, Blue Mussels, Lobster Tail and Mushroom Trio. Since we'd already tried many of the choices available under their styles in our previous review, we decided to go with one of their newer additions, the Malabar Masala. A Kerala curry comprising onion, garlic, ginger, curry leaves, red chilli, tomato, coconut milk, chili powder and turmeric, the curry was a mellow affair that was spicy enough for an adult but is also suitable for a child. We picked Steamed Rice for our side, but you also have the choice of picking Egg Fried Rice, Couscous, Roast Garlic Paan, Sweet Potato Fries, Corn on the Cob and Jacket Sweet Potato.
The Lobster Biriyani (Rs. 2490) off the Specials Menu came highly recommended, so we gave it a try. Despite some initial skepticism - after all many restaurants do a biriyani, but not many do it well - we were quite surprised by the end product. The Biriyani, which came with the typical accompaniments - mint chutney, raita, malay pickle - was flavourful and we could instantly see its appeal. The lobster was quite meaty (another aspect that added to our initial apprehension in ordering the dish) and the biriyani, we thought, could be shared between two people. Another element we loved was the mint chutney, which tasted quite fresh, and so was pretty great with the biriyani. We'd be more than happy to order the biriyani again! Their Specials Menu also comprises Seafood Trio, Lobster Mac and Cheese, Wild Mushrrom Risotto and Fish and Chips.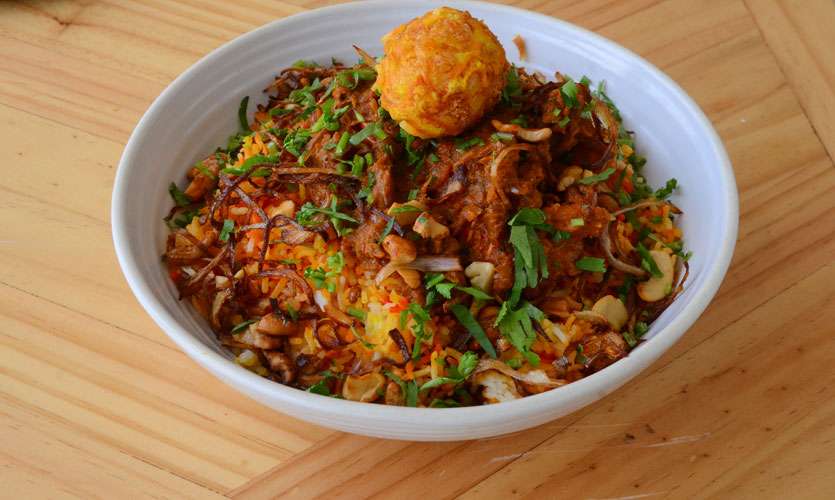 Like their drinks menu, their desserts are not made in house either. They offer Deep Fried Ice Cream, Haagen Dazs Ice Cream and Milk Toffee for those of you with a sweet tooth who'd like to end their meal with something sweet.
What we recommend: Batter Fried Isso, Lobster Biriyani
Author's Notes: Complimentary salad with every combo. Prices include all government taxes 17% and service charge 5%.
Parking Facilities: Parking on premises
Pics: Waruna Wanniarachchi